Pass The Amazon Online Assessment Test and Get Hired in 2023
What is the Amazon Online Assessment Test?
Founded in 1994 by Jeff Bezos, Amazon is an American e-commerce and Cloud Computing company. Amazon currently attracts thousands of applications each year and offers great career opportunities for growth.
For most of the work positions, Amazon requires passing Amazon Online Assessment Tests, which measure key characteristics required for success in a role. The type and number of assessments will depend on the role a test taker applies for.
In the current competitive job market, you should make every effort to stand out from the competition. Note that practicing before the real exam is a must. That's why Prepterminal has developed an Actionable Strategy and All Inclusive Amazon Prep Course to get you fully prepared within a few hours.
Amazon Assessment Prep Course
Here's our 3-step success strategy to ensure you are well prepared for the Amazon exam:
Read this guide to learn everything about the Amazon hiring process and the Amazon online assessments
Take a look at each Amazon Assessment sample question below to be familiar with the most popular question types featured on different Amazon tests
Take our All Inclusive Amazon Prep Course to increase your score
Choose Required Amazon Online Assessment
As the Amazon Assessment varies according to the job position, we have prepared separate guides and sample questions for each test. Take a look at the required test to get all information you need to know before the exam.
The Amazon Area Manager test, also known as the Manager in Operations Virtual Job Tryout, is typically completed in 45 minutes. It includes the following five sections:
Work Scenarios – A Situational Judgement Test
Manage Your Day – order activities according to their urgency
Run Your Area – use the info given in data reports to answer questions
Tell Us Your Story – tell about your work experience
Describe Your Approach – a personality assessment
You need to pass an Excel exam and several behavioral and case study interviews to work as a Financial Analyst at Amazon. The Amazon Excel assessment test asks candidates to understand the various features of the software.
The Amazon Maintenance Technician Test is an electrical and mechanical assessment. This Amazon assessment is administered to applicants for different maintenance positions. The topics the candidate will be tested on include, for example, Power Transmission & Preventative Maintenance; Test Instruments; Pneumatics and Hydraulics; and Print Reading.
Applicants for Amazon's Warehouse and Fulfilment associate jobs complete an online test. This Amazon test is called Amazon Associate Game on Virtual Job Tryout.
This test is made up of the following two sections:
Tell Us our Story – tell about your work experience, background information, and general work approach.
Stow Pro – This part features three games that show the sort of work candidates will do as Warehouse associates. In these games, candidates will need to put virtual items on shelves, put grocery items in shopping bags, and put packages into aisles.
The Amazon Work Style assessment is a personality assessment. This Amazon test measures your work qualities and preferences to see how well you fit in with Amazon's work culture.
This assessment takes approximately 15 minutes to complete. On this test, candidates will be presented with pairs of statements and will need to choose which statement is more like them.
6. Amazon Hiring Simulation
The Amazon Hiring Simulation assessment test will show you the sort of challenges typically faced by employees at Amazon.
This work simulation test measures your multitasking abilities and prioritization skills. It also looks at how you work under pressure and your ability to adhere to Amazon's Leadership Principles.
7. Amazon MBA online assessment
The Amazon assessment test for MBA is the exam given to MBA and master's level applicants seeking full-time positions and internships.
The online MBA assessment features three sections:
Work simulation – a simulation that shows candidates scenarios that they may face while working at Amazon.
Work Style assessment – a personality test.
Career experience survey – a questionnaire. Applicants will be asked to say which of the MBA roles they prefer (from those currently available).
8. Amazon Solution Architect Assessment & AWS Cloud Support Associate Assessment
Applicants will need to complete the Amazon Solution Architect (SA) online assessment. They do this once they pass the initial C.V. screening for various Solution Architect roles at AWS.
The test takes approximately 75-90 minutes to complete and features five sections:
Hiring Simulation with various real-life scenarios
Amazon Work Style Assessment
General Technical Knowledge part to measure technical skill
Proficiency Interest Survey
Technical Indicator Assessment
The Amazon Software Development Engineering (SDE) online assessment involves behavioral and coding tests. These Amazon tests are administered to applicants for SDE positions. These positions include new graduates, interns, and more experienced positions.
Prepare for Amazon's challenging assessments with Prepterminal's most up-to-date, accurate & effective preparation materials. Our All-Inclusive course includes hundreds of realistic practice questions, exercises, short videos,  and the best tactics for every type of Amazon Assessment question.
What Topics Are Included in Amazon Online Assessments?
Even though there are different Amazon Assessments depending on what job position you apply for, most of them include the following key testing areas: Numerical Reasoning, Verbal Reasoning, and Logical/Diagrammatic Reasoning.
Amazon Numerical Reasoning Test
The numerical reasoning test is created to assess your confidence and skills in understanding statistical information. As Amazon is a data-driven company, these exams are often standard.
You will be shown a series of charts, tables, and graphs. You will need to study the data and form logical conclusions. All the questions will be multiple-choice. You will only need to do basic calculations, such as conversions or percentages.
Question: Carol bought 150 unsigned books, had them signed, and sold all of them for $1,050 in total. She made a $6 profit for each book. How much was the total original price for all 150 books?
Answer: A
Explanation:
Take note of what is being asked (required)
Total original price of all books
Multiply the total number of books with the profit per unit to get the total profit.
150 x 6 = 900
To get the total original price, subtract the total profit from the total cost.
1,050 – 900 = 150
Amazon Verbal Reasoning Test
This Amazon test measures your capacity to analyze and understand written information. On this test, the questions are presented as statements. You will need to classify a set of statements as 'true' or 'false', based on the passage of text presented to you. In some instances, there may not be enough information to say. In this case, you would mark 'cannot say'.
Assumptions:
Veronica organizes her medals by putting them on the same shelf where some of her trophies are located.
However, she doesn't like putting her certificates beside her medals.
Her 'Best in Public Speaking' award is on the wall.
Conclusion:
Veronica's 'Best in Public Speaking' award is a certificate.
Question:
C:

Cannot be determined based on the information available
Answer: C
Explanation:
Study how the assumptions relate to each other:
Veronica organizes her awards by putting her medals on the same shelf as her trophies However, she doesn't like putting her certificates beside her medals. Her 'Best in Public Speaking' award is on the wall.
Group all common thoughts together:
Veronica puts her medals on a shelf (where some of her trophies are located) but doesn't like putting her certificates beside her medals. Her 'Best in Public Speaking' award is located on the wall.
Compare the conclusion with the (grouped) assumptions:
Veronica puts her medals on a shelf (where some of her trophies are located) but doesn't like putting her certificates beside her medals. Her 'Best in Public Speaking' award is located on the wall.
Although it is specified that Veronica separates her certificates so that they are not positioned beside her medals, the assumptions mention nothing about her preference towards the certificates being beside her trophies, and that only some of her trophies are on the shelf, making it unclear if her 'Best in Public Speaking' award is a certificate or a trophy.
Amazon Logical Reasoning Test
This Amazon assessment test evaluates a candidate's pattern identification and sequence abilities. It also tests an applicant's logical thinking skills, and capacity to approach and solve a given problem.
These tests are timed. So, you will need to practice to be fast and accurate.
Question: What comes next in the sequence?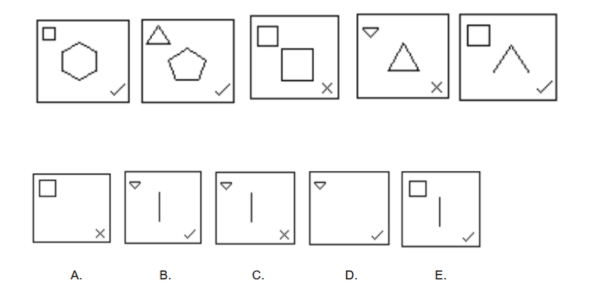 Answer: B
Explanation:
First: The shape in the center comprises 1 fewer straight line every time.
Second: The top left shape alternates between being a triangle and a square, disregard where it is pointing as it is a way to confuse test-takers
Third: There is an X mark when both shapes have the same number of sides, and a checkmark when they have different numbers of sides.
Amazon Recruitment Process
Amazon's recruitment process is tough. Here we are going to present it step-by-step.
1. Online application form
To apply for a position at Amazon, you must create an amazon.jobs account. Then you will need to set up a profile, upload your resume, and possibly answer some screening questions. If you are applying for a creative position, you may wish to include links within your CV to work examples or an online portfolio.
Telephone interviews at Amazon are made up of behavioral questions. Your answers should draw on Amazon's Leadership Principles. You will be asked to tell the interviewer about challenges you have faced, and how you overcame them.
Questions are generally centered around collaboration, team motivation, problem solving and risk. The hiring team will likely look for data-based evidence. So include supporting facts when you answer.
3. Amazon numerical reasoning tests
As a component of the screening process, you will probably be asked to complete several online assessments. The Amazon numerical reasoning test measures your capacity to analyze, evaluate, and interpret numerical data. The data will be presented to you in the form of graphs, charts, and tables.
4. Amazon verbal reasoning test
You could also be asked to take a verbal reasoning test. These tests assess your agility to understand written information and your critical thinking skills. You will say which statement is true, false, or you cannot say. Based on the information contained within the passage.
The work style assessment is a sort of personality test. This Amazon online assessment is used to test your professional preferences. And, to see if you suit the Amazon culture.
6. Work sample simulation
For the Amazon work sample simulation, you will be presented with a virtual task, which will relate to your future job. This may be for example, handling a customer query or assessing financial information. Your work sample simulation will generally take an hour to complete.
7. Face-to-face interview
If you successfully pass your Amazon online assessment, you will be asked to join an in-person interview. This will last for approximately 45mins – 1hour.
You may meet anywhere between 2 – 7 interviewers, depending on the job you are applying for. The questions will primarily be behavioral.
Every Amazon business team has its own particular recruitment process. Some teams may demand that you attend an in-person assessment day.
The activities you will participate in vary depending on the job role. However, group activities and role play exercises are typical. You may also be asked to complete a written assessment or a job-specific exam.
Amazon aims to answer all applicants as soon as possible. It notes that it has a turnaround of 5 working days after the interview. So you can expect to get your results within 7 days.
What Happens if I Fail the Amazon Test?
In some cases, the assessment is the first screening step. Alternatively, it can follow a phone interview. If you fail the assessment your application will be terminated. You will need to reapply after a specific amount of time. The time-period varies depending on the position you are applying for.
*Note:

Amazon.com, Inc and other trademarks are the property of their respective trademark holders. None of the trademark holders are affiliated with PrepTerminal or this website.