Easily Pass Any US Police Exam With Prepterminal's Police Exam Prep Suite
Prepterminal's all-inclusive Police Prep Suite covers all police test topics so that you can be prepared for any police test format across the States.
The Full Suite for the Price of One Course
Police departments across the United States administer a range of exams to select the best candidates. Different jurisdictions use different exams, so it can be very confusing to decide how best to prepare.
Prepterminal's Police Exam Prep Suite has been created to cover all the main police entrance exams, alongside a one-size-fits-all course in case your specific test isn't listed. 
By purchasing any single police prep course, you will be provided full access to the entire bundle of police prep courses so that you can rest easy in the knowledge that you are receiving the appropriate police prep material for the specific test you are taking.
Read on to learn more about police entrance exams or explore our pages on individual police tests to find out what you can expect from the specific agencies to which you are applying.
What Tests Are Included in Complete Police Course:
Click on your state below to find out which test you will be taking, based on your county:
If you're planning on applying for a role in the police force anywhere in the states, then it should come as no surprise that you will be expected to take a number of tests in order to prove your competence for such a vital role for society's safety and wellbeing.
Finding exactly what you need to prepare for can be confusing. While much of the application process is similar across police departments, they administer different exams depending on state and county.
We've spent countless hours researching and preparing agency-specific material in order to make sure that you get exactly the resources that you need so that your time can be 100% focused on preparing for the challenging police test you have ahead of you.
What's on the Police Exam?
While there are many variations of the police test, the general question categories are generally similar. Let's take a look at the typical components of law enforcement entrance exams:
As with most job positions with any employer, reading comprehension is an essential ability. Speaking specifically to the role of a police officer, it is absolutely vital that you can properly read and comprehend written information. This is so that you can adequately perform your everyday duties which will often involve reading written reports and other such tasks.
Another vital element of your capacity to operate as a police officer is how wide-ranging your lexicon is. Police officers are society's primary peacekeepers, and so it is important that you are able to express complex lines of thought to those with whom you are interacting – after all, a police officer's ability to persuade is largely contingent on his ability to say what he means in a way which will deescalate situations, which will calm down altercations and potentially save lives.
Written Communication/Report Writing
It should come as no surprise that an officer of the law would be expected to be competent in written communication. The daily activities of law enforcement officers require thorough documentation, so it is vital for officers to be able to communicate in written form with accuracy and concision. In addition to broader written communication police test prep material, our course offers specific material offering guidance on your report writing skills, so that you will be prepared for the exact specifications of your police test.
A police officer's ability to memorize is critical to their ability to properly recall events, which is key to adequately summarize information in reports, as well as properly addressing criminal incidents. If a police officer is not capable when it comes to memorization, this will severely impair their ability to deal with the daily duties expected in the line of work. Our police prep course includes a fully-elaborated module on memorization to ensure that you go into the exam fully prepared, and carry these skills into the job itself.
Policing is a particularly difficult job role because a great deal of frontline law enforcement is subjective, meaning that an officer needs to make value judgments as to how they should approach different situations. While the letter of the law is clear, real-world situations are often less so and as such the proper resolution of problems comes down to an officer's ability to interpret and properly apply the spirit of the law. In order to get a feel for how police candidates would handle situations, a situational judgment test is administered. Our police prep course will help prepare you for this, so you know how to show your best self to the department you're applying to.
As a police officer, you will be covering a great deal of ground. In emergency situations, you ability to navigate to certain locations can be a life-or-death factor for those in danger. As such, you will be assessed on your ability to read maps and navigate the optimal route to certain locations, taking into account any temporary restrictions on routes and other factors. This course comes with full prep material for this topic, along with thorough practice questions to ensure that your navigation skills are sharp when you sit the test.
Becoming a police officer isn't just about your ability to answer questions on paper. While the previous sections in this section cover the quantitative means of measuring your ability, the interview and background check to cover the qualitative aspects of your application. The panel interview aims to get a feel for who you are on a personal level, in a way that can only be done face-to-face. For many, this is the most nerve-wracking part of the application process. Our police prep courses come with a full guide on how to prepare for this part of the application process.
If you're applying to become a police officer, it should go without saying that your record needs to be sufficiently clean. While you won't be automatically disqualified for petty crimes on your record, it is important to be aware of the implications these can have for your application. Of course, felony convictions will automatically disqualify an applicant. While this is not an area of the application on which you can really improve your score (other than advising that you do not commit any crime between now and your application!), our module on the subject will help you familiarise yourself with what you should expect so you can make the process as smooth as possible.
Police Test Preparation Suite Content
Free Police Exam Sample Questions
While each police test comes with certain variations to suit the requirements of particular states, counties, and departments, there are a number of common features which are found almost universally across all exams.
The free police test practice questions below are provided to give you some idea of the kind of questions on your test that you might not be accustomed to.
Question:
While exiting a restaurant with your take-out lunch, you notice that there is a car parked on one of the handicapped spots. According to city law, in order for a vehicle to legally take up one of these spots, a city or state permit must be visibly placed on the windshield or one of the windows to prove their disability or handicap. If not, they will be ticketed and fined. Upon closer inspection, you discover that such a permit is not present at all in the car and so you are obligated to write a ticket. However, while doing so, a man approaches you and tells you that that is his car before showing his prosthetic right leg, immediately explaining to you that he had lost his permit on the freeway that morning after it got blown out by the wind. With this development, what should you do?
A:

Continue to issue him the permit since he did park in a handicap spot without the necessary permit

B:

Continue to issue him the permit and tell him to get a new one immediately.

C:

Cancel the ticket but give him a warning that if he ever parks in a handicapped spot again without a permit, he could have his vehicle towed or be fined if the officer that came over wasn't as lenient as you.

D:

Cancel the ticket and advise him to get a new permit as soon as he can so that he won't run into troubles like these again in the future.
Question:
The following map shows a network of train lines. Each line is labeled with a different letter and is highlighted with a different color. Each station on the lines is marked with a small circle. For reference, some of the stations have been numbered e.g A1, B1, C16, etc. The stations marked with a '1' are the first stations on the line.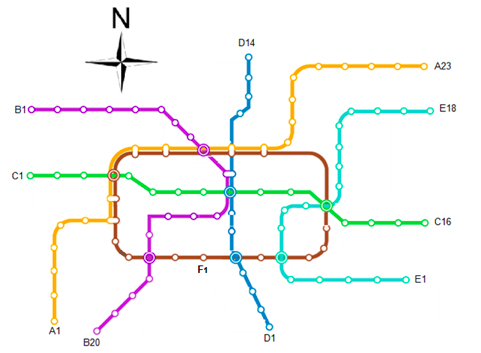 A man gets on the train at Station A1 and heads North. He then switches onto the F line at the first available point. From here head North until reaching the B line. He then switches again and heads to B3 before departing. How many stations has the man passed through on his journey?
The police fitness test is a major element of the law enforcement exam, which comes as no surprise. As a police officer, you will need to ensure that you are in good physical condition so that you can meet the often strenuous requirements of the job. While there is little an online course can offer to prepare you for this, we do offer some guidance on the matter here.
How to Pass the Police Written Exam
As you can see, the police exam is no joke. The questions are both varied and difficult, meaning that without the use of a police exam study guide you can easily wind up being skipped over by other candidates who came better prepared.
The only way to get a real advantage in this competitive field is thorough study, which we have made easy by compiling all the resources you need into a single modular course. Our police exam 2023 prep course enables you to work on the individual skills assessed by police departments, in order to ensure that you are fully prepared for your test on all fronts. You don't have to waste valuable time searching through a sea of unorganized information online to prepare – we've handled this to save you the stress and confusion. Sign up today for one of our outstanding police prep courses and get a foot up in this challenging exam!
Prepterminal is Here to Help
The police assessments in the US are notoriously difficult, and the abundance of competition can make it extremely difficult to be selected as an officer.
When it comes down to it, your score on the test can make the difference between being considered for the job and being passed by in favor of better-prepared applicants.
Our comprehensive police prep courses have been meticulously designed in collaboration with former police recruiters and law enforcement experts who have been up close and personal with the real tests, so that we know the course we offer is the real deal.
With the invaluable input of our experts, we have produced a full curriculum-based course for an optimal structured learning experience that covers everything you need to know, allowing you to spend less time worrying and more time preparing.
Each module goes into depth on the topic with which it is concerned, making sure that no stones are unturned in properly teaching you the concepts you need to know to ace your exam.
Between our modules on the cognitive aspects of the test and the modules covering areas such as the background check, polygraph, and panel interview, we have ensured that this effort goes all the way in preparing you for this momentous application process. With our help, you can ensure yourself a career as a future police officer – sign up today and take the right step towards your future!