Become FireTEAM 2023 Ready: Master the Test with Our In-depth Prep Course
Expertly Crafted, Interactive Practice Quizzes & Updated Content
Welcome to your all-in-one resource for conquering the FireTEAM Exam, a rigorous cognitive and behavioral evaluation created by Ergometrics and employed by The National Testing Network for screening aspiring firefighters. Given the limited time of less than a minute per question, it's crucial to arrive at this test well-equipped and ready to tackle each challenge.
The FireTEAM Test is a comprehensive cognitive and behavioral assessment designed specifically for firefighter candidates. Developed by Ergometrics, it is utilized by The National Testing Network as an entrance examination to evaluate the skills and aptitudes essential for success in firefighting roles. The test covers various aspects, including reading comprehension, mathematical reasoning and mechanical aptitude to ensure that candidates possess the necessary qualities to excel in this demanding and critical profession.
Take a Free Practice Test
See what your firefighter assessment skills are like with Prepterminal's Fireteam test questions and fireteam prep course.
Question Types in the FireTEAM Test
The FireTEAM Test consists of two parts designed to assess different skills and aptitudes vital for firefighting roles. Here's a detailed explanation of each section along with a sample question:
The test consists of the following four parts:
This section tests a candidate's ability to read and understand written material. It mainly revolves around firefighting-related passages. After reading these passages, candidates are asked questions to check how well they've understood the information.
It includes 27 questions with a time limit of 15 minutes. This test aims to assess your ability for the ongoing study of complex and technical materials which is required from a firefighter.
At 7:30 pm on Friday, a fire broke out in a residential building on Maple Street. Firefighters responded promptly to the emergency call and arrived at the scene within minutes.
The fire, which started in a first-floor apartment, was caused by an unattended candle. Thick smoke filled the building, making it difficult for residents to exit. The firefighters swiftly evacuated the residents and extinguished the fire by 8:00 pm.
While there were no injuries, the building sustained significant damage, particularly to the first-floor apartment where the fire originated. Fortunately, the fire did not spread to any adjacent buildings, and residents in the surrounding area remained safe.
Question: Which of the following statements accurately reflects the information in the passage?
Correct Answer: A. The fire was contained within 30 minutes
Explanation:
Reasoning: The passage states that the fire began at 7:30 pm and was extinguished by 8:00 pm, indicating that it was contained within a 30-minute timeframe. The other options (B, C, and D) are not supported by the information in the passage.
This section is designed to evaluate a candidate's problem-solving skills in mathematics. It covers basic arithmetic, word problems, and numerical reasoning. The goal of these questions is to measure a candidate's skills in math that are important for tasks related to firefighting
This section Includes 31 questions with a time limit of 25 minutes, which concerns the kinds of math skills firefighters use to solve problems in their everyday working flow.
Question: A fire truck can pump water at a rate of 600 gallons per minute. How many minutes will it take to pump 3,000 gallons of water?
Correct Answer: B. 5 minutes
Explanation:
To determine how long it takes to pump 3,000 gallons of water at a rate of 600 gallons per minute, divide the total amount of water (3,000 gallons) by the pumping rate (600 gallons/minute): 3,000 ÷ 600 = 5 minutes.
This part of the test checks if a candidate knows about simple mechanical rules. It also tests their ability to figure out problems related to tools, machines, and stuff that firefighters use. The questions might show pictures or drawings of different mechanical systems that are used in firefighting.
This part includes 36 questions with a time limit of 43 minutes. This test aims to assess your basic mechanical skills.
Question: Which of the following tools is best suited for tightening a bolt?
Correct Answer: D. Wrench
Explanation: A wrench is designed specifically for turning and tightening bolts and nuts, providing the necessary grip and leverage. Hammers, screwdrivers, and pliers are not suitable for this purpose, as they are intended for other types of tasks.
This part of the FireTEAM Exam is very important. It checks if a person who wants to be a firefighter can work well in a team. It also sees if they can handle tricky situations with people in a smooth and smart way.
Unlike conventional tests, this employs a video-based format where you will watch a series of clips and decide upon the best course of action.The video scenarios play through without interruption, adding an additional layer of challenge to the test. Within the stipulated time frame, you are expected to navigate these scenarios, select the most suitable responses, and demonstrate your expertise.
Remember, this test is less about theoretical knowledge and more about practical problem-solving in high-stress situations, closely mimicking the demanding and unpredictable circumstances often faced by firefighters.
It contains two parts, including 28 scenarios and 76 questions, with a time limit of 57 minutes. This section aims to assess your human relations skills and ability to work in a team.
Question: Your colleague at the fire station is consistently late for work. As a result, the team's daily tasks are delayed. What would you do?
Correct Answer: B. Report the issue to your supervisor
Explanation: In a professional environment, especially in a critical role such as firefighting, it's important to maintain open communication with your supervisor. Reporting the issue allows your supervisor to handle the situation effectively and find a resolution that ensures the team's daily tasks are not adversely impacted.
To thoroughly prepare for the FireTEAM Exam, it is essential to follow a comprehensive approach. Begin by familiarizing yourself with the exam format, understanding the structure and requirements of each section. Study firefighting concepts, terminology, and procedures to build a solid foundation of knowledge. Enhance your reading comprehension skills by practicing with firefighting-related passages. Develop your mechanical aptitude by understanding basic principles and objects commonly encountered in firefighting scenarios. Strengthen your math skills, particularly in areas such as addition, subtraction, multiplication, division, and proportions.
Make use of practice exams specifically designed for the FireTEAM Exam. These resources allow you to familiarize yourself with the question types, time constraints, and overall exam experience. Analyze your performance, identify areas for improvement, and focus your efforts accordingly.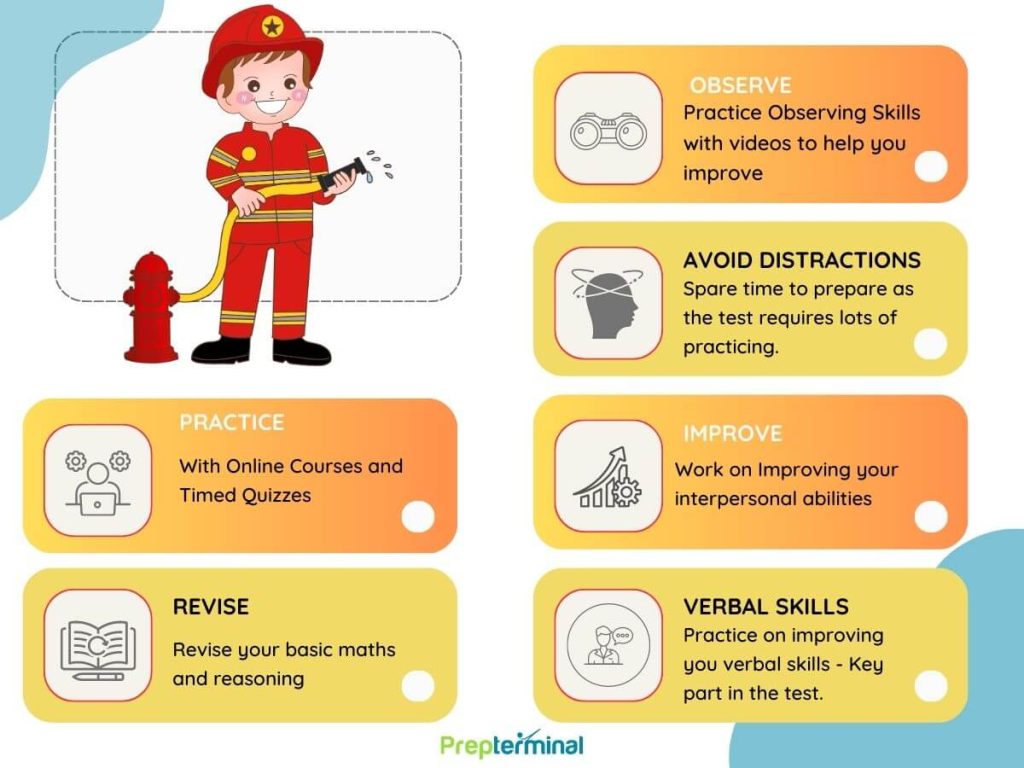 How Prepterminal's Fireteam Exam Prep Can Help
The Fireteam exam is a challenging test to get through because most people only have one or two chances to get it right.
Our comprehensive Prep Course is designed by firefighting experts and fire department professionals. Our full curriculum-based course provides a structured learning experience that covers everything in the Fireteam exam.
Our prep course has study guides, video guides, firefighter practice tests, and questions that contain all the subjects, questions, and question formats that will appear in the actual Fireteam test.
Here at Prepterminal, we know that there are no bad test-takers, only ones that are more informed and more prepared. Secure your future as a firefighter by studying and practicing today with our Fireteam Exam Prep Course!
Here is What Our FireTeam Exam Prep Course Includes
Here are some frequently asked questions (FAQ) about the FireTEAM Test:
What does the Human Relations Test of the FireTEAM Exam assess?
The Human Relations Test examines a candidate's teamwork skills and interpersonal abilities. It uses video segments followed by multiple-choice questions to assess the candidate's ability to choose the best course of action in a given scenario.
Can I pause the video segments during the FireTEAM Exam?
No, the video segments in the FireTEAM Exam play without stopping. Candidates need to watch carefully and answer the questions within the given time frame.
Do I need any specific mechanical knowledge for the FireTEAM Exam?
While the Mechanical Test in the FireTEAM Exam does assess mechanical aptitude, the questions are based on common sense and the observation of how everyday objects work. Basic understanding of mechanical principles like valves and water pressure can be beneficial.
Are the video tests in the FireTEAM Exam based on real-life firefighting scenarios?
Yes, the video tests in the FireTEAM Exam are designed to simulate the kind of scenarios a firefighter might face. The Human Relations Test video, for example, portrays individual firefighters and supervisors in various situations, while the Mechanical Test video introduces candidates to an animated brick-making factory.
*Note:

FireTEAM and other trademarks are the property of their respective trademark holders. None of the trademark holders are affiliated with PrepTerminal or this website.