Achieve Top Scores in Any 911 Public Safety Dispatcher Test: Premium Prep Course
Equip Yourself for Success in the Demanding Field of Emergency Dispatch
If you're looking for an all-in-one dispatcher prep course, you've come to the right place!
The role of a 911 dispatcher goes beyond just fielding calls. It's a high-stakes position where you become the bridge between life-threatening emergencies and help. Beyond the technical aspects, the role demands emotional resilience, precise intuition, and an unyielding commitment.
With our Ultimate 911 Dispatcher Prep package, you get a comprehensive training program tailored to meet these demands. Crafted by seasoned experts in the field, this course is your passport to ace that initial crucial test and embark on a rewarding career.
We provide specialized prep packages for CritiCall, NYPD Communications Technician Exam, and POST. However, if you're seeking a comprehensive prep for a 911 dispatcher test, we recommend this course as your all-encompassing toolkit.
What is the 911 Dispatcher Test?
The 911 dispatcher test evaluates individuals aspiring for a role in emergency dispatch. It focuses on testing key skills like multitasking, memory retention, map interpretation, and high-pressure decision-making. More than just a test, it's a measure of one's ability to be a reliable link during emergencies, gauging both emotional resilience and clear communication skills. Passing this exam is a testament to a candidate's readiness for the role of an emergency dispatcher, ensuring they're equipped to handle critical moments when lives hang in the balance.
Types of 911 Dispatcher Tests
Different public-safety agencies in the US and Canada each have their own standards when it comes to hiring dispatchers. This means that the content and focus of 911 dispatcher tests can vary. Here are some of the most common tests:
CritiCall 911 Dispatcher Test
Regarded as a gold standard in the dispatcher industry, CritiCall has been adopted by more than 1,800 agencies to vet potential candidates. It is designed to consider approximately 16 core skills vital for dispatch roles. These skills range from multitasking and data entry to map reading and rapid decision-making amidst high-pressure scenarios. The test uses mock emergency scenarios to see how well a candidate can multitask, and there's also a separate module for personality assessment. The modules you are tested on might vary based on the agency they are applying to.
Check out our dedicated CritiCall prep course that will prepare you for all 16 modules and the personality test too.
POST CA 911 Dispatcher Test
Held primarily in California, the POST (Peace Officer Standards and Training) Dispatcher Test serves as an entry-point assessment for dispatchers. It evaluates verbal prowess, reasoning capabilities, memory recall, and perceptual aptitude in potential candidates. This test is structured into 11 distinct modules, each accompanied, and takes about 2.5 to 3 hours to complete the whole test. Of the total eleven modules, six use the traditional paper-and-pencil method with multiple-choice questions and the remaining five are auditory, requiring candidates to attentively listen to information and then choose the corresponding answers from the test booklet.
Police Communications Technician Test
The Police Communications Technician Test is designed to evaluate the skills and capabilities essential for the pivotal role of NYPD 911 operator. It tests the candidates' proficiency in a range of areas including written expression, memorization, problem sensitivity, deductive reasoning, inductive reasoning, and information ordering. The test ensures individuals possess the requisite abilities to adeptly manage critical communications between law enforcement officers and the public.
National Dispatcher Selection Test (NDST Exam)
The National Dispatcher Selection Test (NDST) is a comprehensive assessment utilized to gauge candidates' competencies in managing emergency calls, decision-making, prioritization, and teamwork. The test is designed to measure diverse aspects of dispatcher performance, including reading comprehension, listening skills, problem-solving ability, prioritization, and multitasking aptitude.
Modules & Sample Questions in 911 Dispatcher Tests
Dispatcher tests typically consist of a range of modules designed to test the important skills required for the role. Here are some common testing modules you might encounter in almost every dispatcher test:
In this part, they're checking how well you can understand what you read, pick out important details, and get the whole picture. They'll give you a piece of writing and then ask you questions about what you read, what a dispatcher should do, or what comes next in the story.
Passage
The art of calligraphy, once an essential skill for scholars and monks, has evolved into a form of expression merging writing and drawing. Traditionally, it required mastery over brush and ink to reproduce intricate scripts, representing not just words but the essence of the writer. Contemporary calligraphy has broken the boundaries of traditional scripts, allowing artists to weave their personalities into their creations. With the rise of digital technology, virtual calligraphy tools have become popular, offering endless possibilities for creativity while preserving the core essence of the art.
Question: An appropriate title for this passage might be?
Correct Answer: C: Calligraphy: A Blend of Tradition and Modernity
Explanation:
The title should encapsulate the essence of the passage. Here, the transition of calligraphy from traditional to modern forms, including the influence of digital tools, is discussed, making (C) the most fitting title.
Besides clear pronunciation, being a dispatcher requires a grasp of vocabulary and spellings, spanning from simple to complex words. This involves understanding meanings, proper spelling, and effectively comprehending diverse verbal calls from callers. In this module, you can expect to encounter synonym questions and tasks that require you to fill in blanks with the correct spellings.
Question: The fire department SWIFTLY responded to the emergency call, showcasing their dedication to public safety.
Correct Answer: D: Rapid
Explanation:
Elimination Technique: Eliminate blaze and police as they do not match the context of responding to a call. Ablaze is a different word altogether.
Clue Utilization: Consider the context of the fire department's quick response. The term rapid aligns well with swift action.
Sentence Testing: Replace the word rapid in the sentence with the word in uppercase, "The fire department SWIFTLY responded to the emergency call, showcasing their dedication to public safety."
Question: Choose the correct spelling:
Correct Answer: (C) occurrence
Explanation:
Rule Applied: "Double 'r' Past Tense: In words ending with '-er' or '-ur,' double the 'r' in the past tense if the accent falls on the last syllable.
Given the fast-paced and critical nature of emergency response calls, the dispatcher's ability to swiftly comprehend and promptly execute verbal directives assumes a position of paramount importance. Within this specific module, individuals are presented with a verbal audio clip, followed by questions that draw from its content, offering a practical assessment of their proficiency in this vital skill.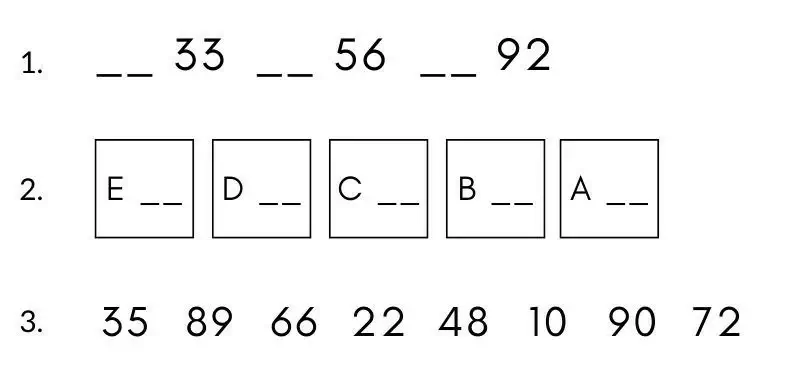 Instruction: Look at line 1 on your worksheet. Next to the left-most number, write the letter "A." Now, on your answer sheet, find the space for the number beside which you wrote, and darken the space "A."
Solution:
This instruction is pretty direct. Locate the left-most number which is "33" and write the letter "A" beside it in the space provided. Refer to the following image to know what it would like-

The next part takes you to the answer sheet, which is your OMR sheet, on it locates the number-letter combination you just deciphered. Blacken the space of the letter "A" for the number "33" in your OMR.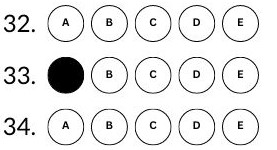 To excel as a dispatcher, it's essential to type quickly and without errors. A benchmark for many is typing 35 words per minute flawlessly. In this module, you'll be provided with a passage, either written or audio, and you'll need to type out what you encounter. Remember, if there are mistakes in your typing, regardless of your speed, it might hinder your chances of passing this section.
Question:
See the below information and type exactly what you see
| | | | |
| --- | --- | --- | --- |
| 2503 | $212.12 | 8321 | @212 |
| 51602 | $141.80 | 9834 | 516.14 |
| 203.53 | @983.4 | $123.70 | $203.98 |
This is how the Data Entry box will appear.

Explanation:
This will look like this when filled.

For a dispatcher, understanding and navigating maps effectively is crucial. They must quickly interpret routes, landmarks, and provide accurate directions during emergencies. This module tests a candidate's ability to read maps and translate that knowledge into actionable information. Dispatchers will be presented with various map scenarios and will be questioned on routes, locations, and potential obstacles to ensure they can guide emergency responders efficiently to their destinations.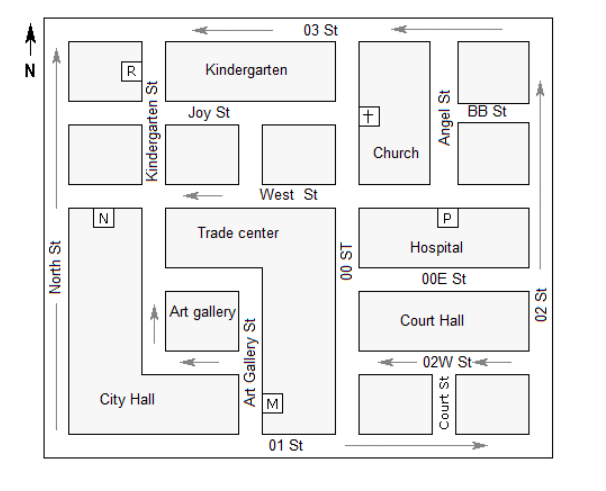 Question:
Look at the map, what is the exact location of the accident to dispatch the ambulance?
Correct Answer: C) Kindergarten St & West St intersect
Explanation: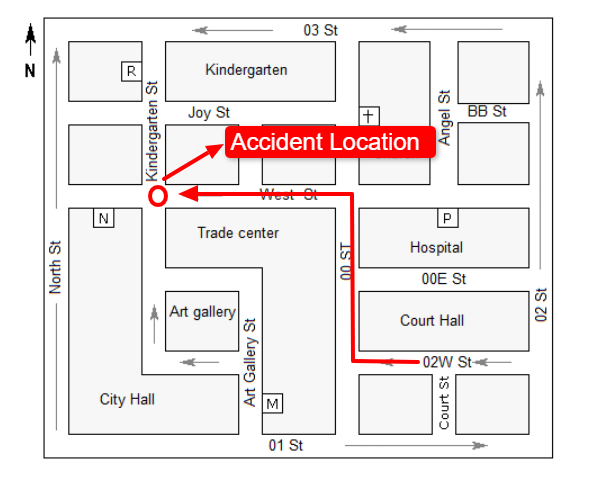 The multitasking module tests a dispatcher's capability to handle multiple tasks at once without errors. Candidates will face scenarios simulating concurrent incoming calls and emergencies while answering the other modules of the test. This ensures that they can manage stress and maintain organization during high-pressure situations.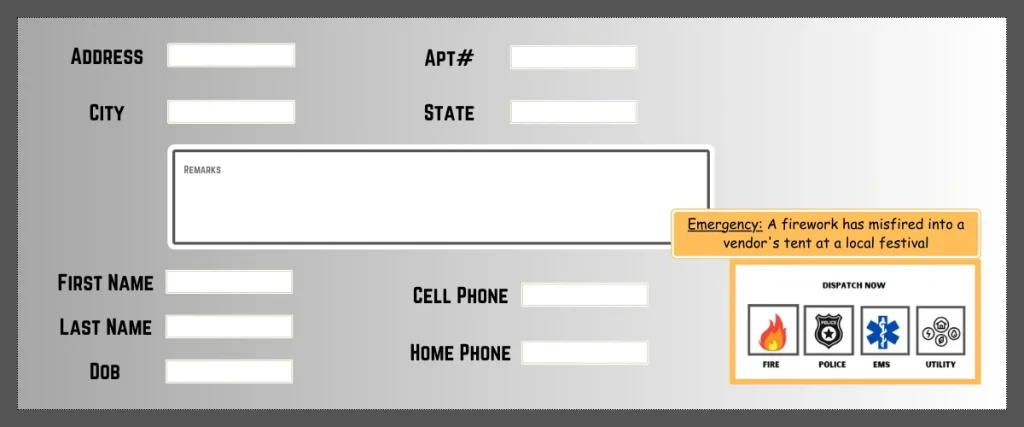 The section evaluates a dispatcher's skills in logical thinking and decision-making. It focuses on deducing specific conclusions from clear data and deriving general insights from observed patterns. Such reasoning capabilities are essential in choosing the right response in diverse emergency situations.

Try Our Free 911 Dispatcher Practice Tests
Crafted by experts, this practice test aims to simulate the real thing, giving you insights into the types of questions you'll face. Dive in now and see how prepared you are!
Reading Comprehension Practice Test
Map Reading Practice Test
Clerical Skills Practice Test
Oral Directions Practice Test
Personality Practice Test
Take a look at our 911 Dispatcher Exam Prep Modules
Our Dispatcher Prep Package Can Help You Prepare
Pressed for time? Elevate your readiness with our focused Dispatcher Prep Package that includes:
Written Comprehension: 20 real-life scenario passages encompassing 100 questions.
Vocabulary & Spellings: Vocabulary & Spellings: 50 diverse word challenges spanning simple to intricate terms
Oral Instructions: audio clips testing comprehension and responsiveness to verbal directives.
Clerical Skills: 40 tasks evaluating typing accuracy and speed based on real-life dispatcher scenarios.
Map Reading: 25 map exercises testing route optimization and geographical awareness.
Multitasking Abilities: 20 simulations assessing efficient management of simultaneous tasks.
Decision Making: 35 questions gauging logical conclusions and pattern recognitions from varied situations.
Plus, we've got a bunch of handy tips and tricks to help you tackle those tough questions and shortcuts to solve problems faster and boost your scores.
*Note:

911 Dispatcher and other trademarks are the property of their respective trademark holders. None of the trademark holders are affiliated with PrepTerminal or this website.