Ace the New TSA CBT (2023) with TSA Prep Booster™ - Latest Practice Tests & Study Guide
Latest TSA CBT Practice Tests: Ideal for New 2023 (TSA 3D) & Legacy TSA X-Ray Tests
As of August 2023, 5% of the airports have moved to a new format for the Transportation Security Administration (TSA) exam. While most airports continue to use the legacy format which includes XRAY and English skills assessments, it is expected that the new version will eventually be adopted across all locations.
Prepterminal's TSA Prep Booster™ practice test has been updated to prepare candidates for both the traditional and revised TSA tests.
The Transportation Security Administration (TSA) test, also known as the TSA X-ray ORT (Object Recognition Test), TSA CBT (Computer Based Test), or TSA/TSO (Transportation Security Officer) Screener Test, is an essential part of the selection process for those seeking to work at airports, particularly in the role of Transportation Security Officers (TSOs). This test evaluates the skills required for adequate performance in these roles.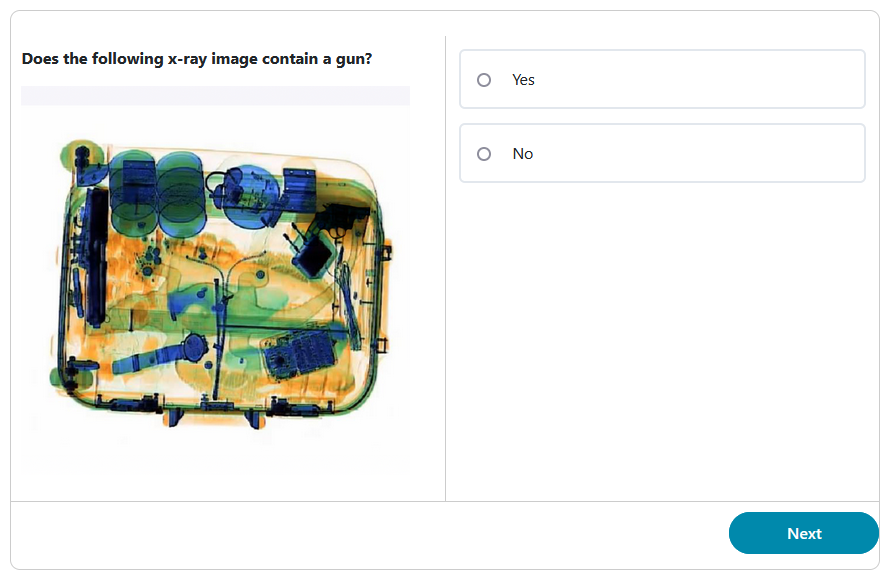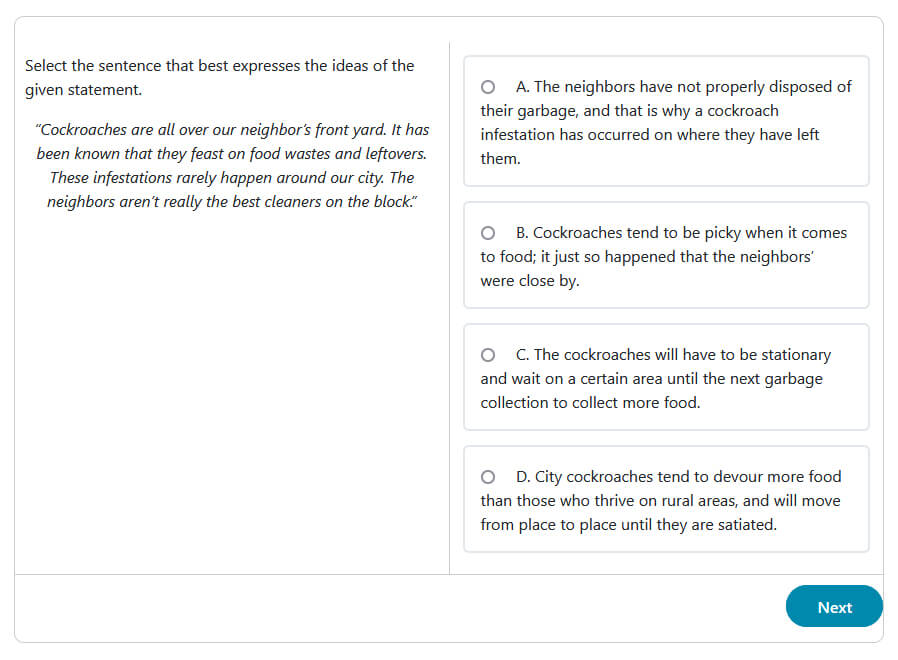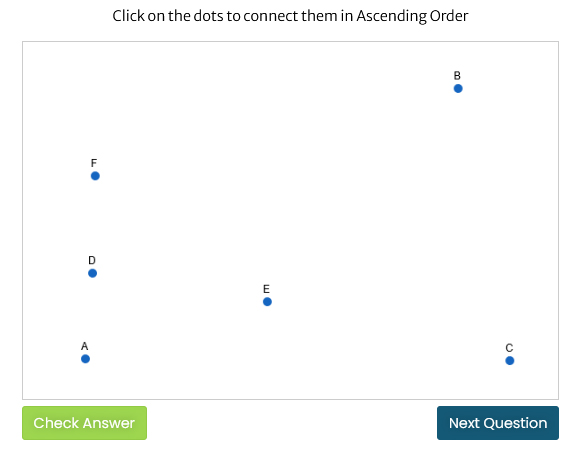 Connect Dots
Click on the dots to connect them in the proper sequence.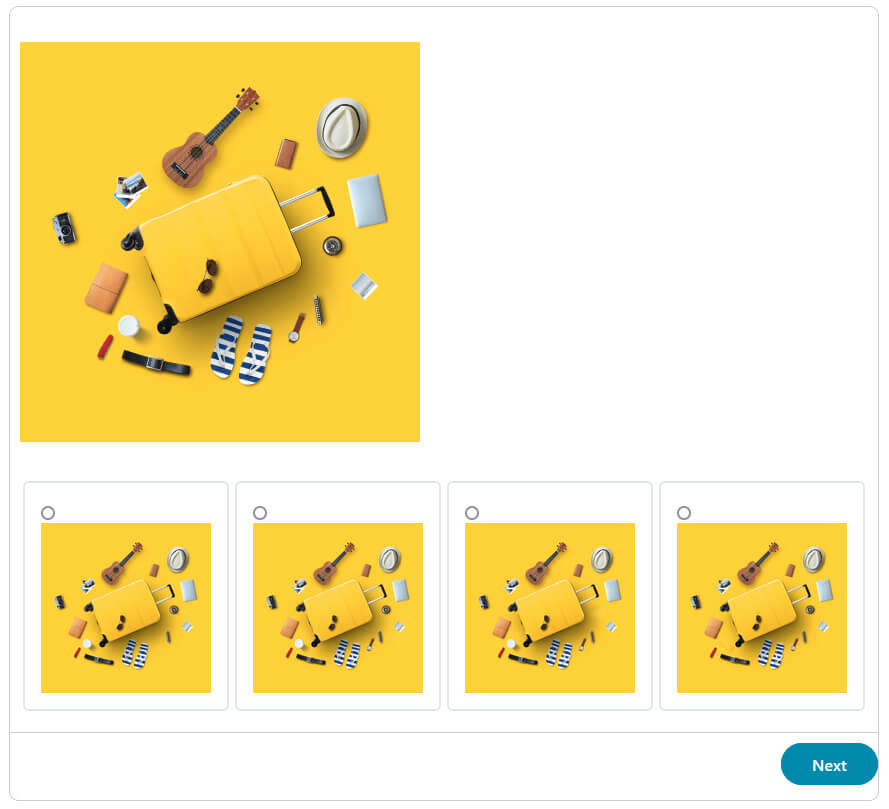 **Note: The trademarks associated with TSA and other affiliates belong to the Department of Homeland Security (DHS). Prepterminal has no affiliation with the DHS or the U.S. government whatsoever. The DHS neither endorses nor promotes Prepterminal or any of its services. Prepterminal only provides test prep courses for the TSA CBT.
TSA CBT Test Evaluates Your Proficiency In Two Primary Domains
ORT & English proficiency have traditionally been the primary domains assessed in the TSA selection process. However, with the introduction of the TSA CBT 2023, a few airports have a new section added to the evaluation process – the new test is shorter and the sections are a little different from the legacy ones.
X-Ray Test or ORT (Object Recognition Test)
The X-ray object recognition test considered a highly challenging component of the TSA assessment, centers around evaluating the aptitude to interpret and recognize X-ray scans.
For the TSA X-ray exam, you will be presented with a set of simulated X-ray images depicting baggage or objects. Your task is to thoroughly examine these images and accurately identify any potentially suspicious or prohibited items, such as firearms, explosives, knives, or other hazardous objects.
Types of questions you can expect in the X-ray test:
Object Recognition: In this section, you need to identify specific objects within the X-ray scans. These images will contain commonplace items like laptops, shoes, or bottles, as well as items of potential threat.
Image Comparison: For this type of question, you will be given multiple X-ray images to compare and identify any differences or oddities between them. It tests your attention to detail and ability to identify subtle variations.
Threat Detection: This section requires you to identify potential threats or prohibited items that may be hidden within the baggage scans. You should have the ability to detect irregular shapes, patterns, or materials that are of security concern.
Scenario-based: Here you are given realistic scenarios where you need to determine the appropriate course of action based on the X-ray images. This assesses your ability to make quick decisions in a dynamic environment. 
To excel in the ORT(Object Recognization Test) exam, you need to develop strong visual scanning skills, recognize common items, and know how to differentiate the items of potential threats. Practicing with simulated X-ray images, similar to those you will encounter in the actual exam, can considerably improve your performance in this section.
Make the most of the opportunity by taking our Free TSA X-ray Test and know your existing level of preparation. Results are displayed on the screen instantly!
The English Language Skills Test in the TSA evaluates your command of the English language, which is essential for effective communication as a Transportation Security Officer (TSO). This section of the TSA assessment focuses on assessing your language skills to ensure that you have the necessary linguistic abilities.
Types of questions you can expect in the English Proficiency test
Grammar and Vocabulary: Questions of this type will evaluate your understanding and usage of grammar rules, sentence structure, verb tenses, and vocabulary.
Reading Comprehension: You will be given passages or texts and asked to answer questions around vocabulary usage, and main concepts. 
Written Expression: This section tests your ability to express yourself effectively in written English in tasks like writing reports, emails, or responses to prompts.
Listening Comprehension:
You will need to listen to audio recordings or conversations and answer questions to test your understanding of the main idea, details, etc.
To do well in the TSA English Skills Test, it is important to have a strong command of English grammar, vocabulary, reading comprehension, listening skills, and written expression. Developing these skills through regular practice, reading English texts, listening to English media, and engaging in conversations can significantly enhance your performance in this section.
Seize the opportunity to benefit from our Free English Language test for TSA and gauge your current level of preparation. Instantly view your results displayed on your screen!
The TSA CBT has implemented a new format designed to thoroughly evaluate candidates' skills and abilities quickly. In contrast to the lengthy two-hour duration of the legacy test, the new exam format has been condensed to a shorter duration, completed within 25 minutes. It's important to note that the new test format is currently being implemented at only 5% of airports. Therefore, depending on the specific airport where you are applying, the test format may vary.
The type of questions you can expect in the new format of the TSA CBT:
Connect the Dots: In this section, prospects will be given intricate patterns or sequences of dots. The task is to accurately connect the dots, demonstrating their proficiency in pattern recognition and logical sequencing.
Image Recognition: This segment evaluates candidates' capacity to swiftly identify and classify objects within images. Test-takers will be presented with a variety of images, ranging from everyday objects to potential threats.
2D to 3D Interpretation: This component evaluates the candidates' aptitude for mentally transforming two-dimensional paper into three-dimensional representations. They must be able to interpret the dimensions and spatial relationships of objects presented in two-dimensional images.
Experience our sample test designed according to the new TSA CBT format. Receive instant on-screen results to gauge your performance.
Supercharge Your Preparation & Increase Your Chances of Being Hired as a TSA Officer by 85% - TSA Prep Booster™ Course
The TSA Prep Booster™ course prepared in collaboration with aviation security experts is a comprehensive training package. Its X-Ray Supercharge Tool can train you to identify very complex X-ray scan images quickly. 
It also includes a series of guides with practice questions to prepare you for the new TSA test (Connecting the dots, Image recognition and 2D to 3D Interpretation). Moreover, you also get exclusive access to tutorials that provide insights into what to expect during your interview and background check. In short, it contains everything you need to pass the TSA.
Prepterminal's TSA Prep Booster™ course has been updated to prepare candidates for both the traditional and revised TSA tests.
Get a Sneak Peek of Our TSA Prep Booster™ Course
Mastering the X-RAY Test: Plan for Success
For those aiming to excel in their pursuit of becoming a TSO, mastering the TSA Test is essential. Here are some key strategies and tips to help you succeed: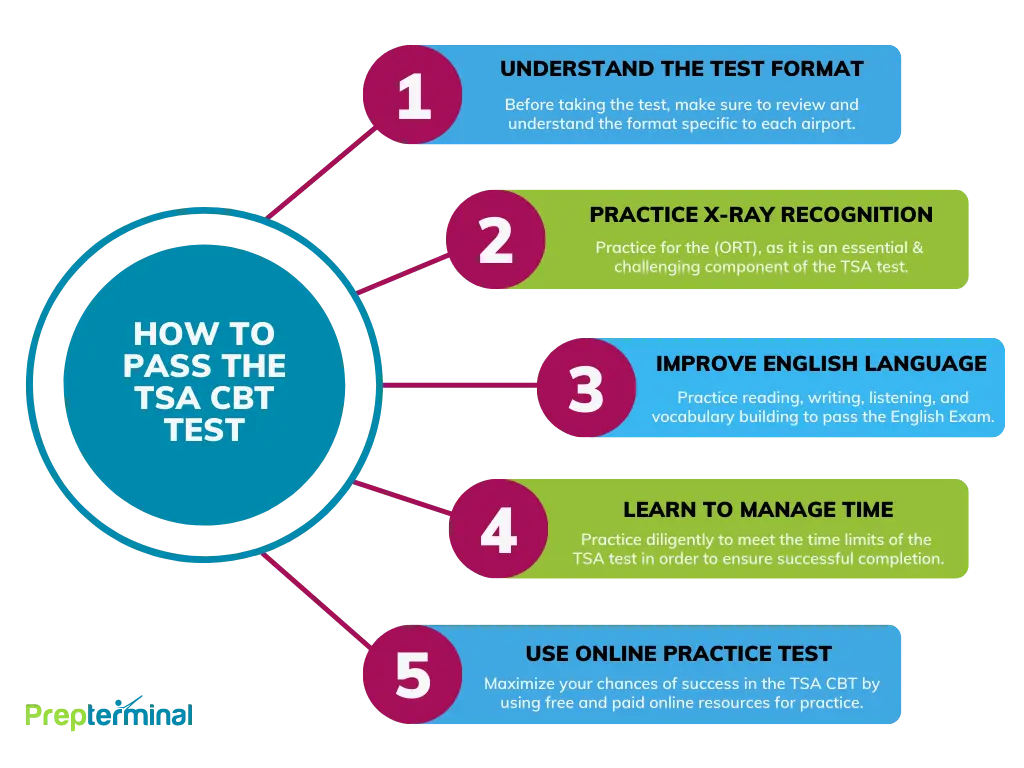 How to Ace the Tsa X-ray Test?
Practice and Practice! Enroll in our comprehensive course designed in collaboration with professional aviation security instructors. Regardless of whether you are pressed for time or have ample preparation period, our course equips you with the skills to scan X-Ray images successfully within 5 seconds. Practice with our vast collection of 800 authentic X-Ray luggage scan images. With targeted practice, you will confidently and instantly identify any item in your X-Ray test.
How to Pass the Personal Interview for TSO Selection?
Gain Insight from the Interviewer's Perspective and Master the Right Approach: Prepare for the personal interview by understanding the thought process of the interviewer and familiarizing yourself with 25 of the most common interview questions that are likely to be asked. This knowledge will enable you to respond confidently and effectively during the interview, increasing your chances of success.
How to Have a Smooth and Short Background Check for TSA Test?
The background check process for the TSA test can often span up to six months, potentially delaying the start of your employment. However, we are here to guide you on minimizing the time spent on this phase, ensuring a smoother application process. Our course has a lot of helpful documents that will provide you with valuable insights and strategies to expedite your background check, facilitating a quicker transition into your desired TSA role.
How to Prepare for Verbal and Reading Comprehension in TSA?
Understand the key strategies to effectively tackle and prepare for the verbal and reading comprehension sections of the TSA computer-based test. Our course is designed to provide you with the necessary skills and techniques to excel in these areas, enabling you to approach the test with confidence and achieve success.
You can also refine your skills with our free practice test and optimize your preparations based on the results.