GardaWorld Pre-Board Screening Officer Exam
Last updated 07/2020
You have probably heard it said 'the sky is the limit!' Meaning there is nothing to prevent you from being highly successful. If you are about to take the GardaWorld Pre-Board Screening Officer Exam, we at PrepTerminal are here to help you realize the sky is truly the limit in terms of your career selection and success.
GardaWorld is a top security contractor for the Canadian Air Transport Authority (CATSA). As a potential GardaWorld screening officer, how will you be helping others reach safety in the sky? The job of a screening officer helps to ensure the security of air travelers, airline staff, and airport employees. All screening officers in Canada need to be security cleared and must pass a thorough baggage scanner training program.
If your sights are set on becoming a Pre-Board Screening Officer then you will need to get through a selective hiring process. The recruitment process begins with two different tests which, passed successfully, are followed by two interviews.
PrepTerminal is here to help you achieve test and interview success so you can do your part to help keep the skies safe.
How do we do this?
Wonderlice at PrepTerminal will provide you with a preparation course to help you approach each stage of the GardaWorld Pre-Board Screening Officer Exam with confidence and precision.
---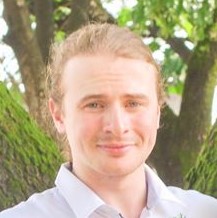 I'm Matt, Prepterminal's GardaWorld Test Prep Expert.
Any questions about the course? Let me know at matt@prepterminal.com
---
More About the GardaWorld Pre-Board Screening Officer Exam
The GardaWorld Pre-Board Screening Officer Exam is a cognitive and assessment test used by GardaWorld to ensure that all applicants have the minimum set of reading comprehension, mathematical, and observation skills. After all, GardaWorld provides safety and security to passengers, clients, and 28 Canadian airports where it executes the pre-board screening process. So, it needs all of its workers to be fully trained and prepared.
Believe you have what it takes to join its 100,000+ strong roster of highly trained security professionals? Read on to learn how to maximize your chances of landing a Pre-Board Screening Officer job with GardaWorld!
---
The Two Pre-Board Screening Officer Pre-Employment Tests
There are two tests you will need to take before you can move on to the interview stage of the Pre-Board Screener process:
Object recognition test or x-ray test, andBasic math and English test.
Yet, there is a catch! If you don't pass the first test you won't be eligible to go on and take the second test. In other words, you are out before you really start. Before you begin to fret, be assured, at PrepTerminal we are here to help you maximize your chances of passing this somewhat tricky x-ray test, so you can move on to the next test with ease and conviction.
How do we do this?
Our team of professional aviation security instructors teach you how to scan x-ray images within a 5-second time frame. We will present you with 800 genuine x-ray luggage images to practice on so you will become a top image scanner! In addition, our hundreds of practice x-ray images will allow you to remember the shape and coloring of items of interests easily and effectively.
---
Let's Take a Closer Look At What The X-Ray Test Involves…
Although this is the first test you will need to take, this is probably the most difficult part of the GardaWorld Screening Officer pre-employment assessment test. Why? Because in the x-ray test, you need to look through numerous X-ray images of luggage to see if they contain any illegal, dangerous, or prohibited objects. You will be presented with images like those seen below.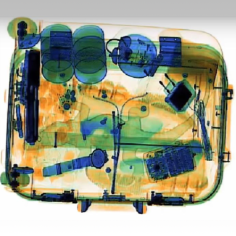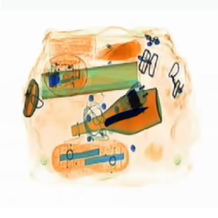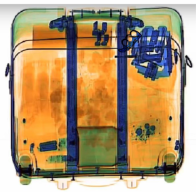 You may be thinking that this looks pretty straight forward. Think again. More than 3 out of 4 candidates fail this test! Why? Primarily because they underestimated the time it takes to examine each image.
When you take this test, you are only given around 20 seconds to see if the luggage contains an object of alarm. What makes this test even more tricky is that many of the images used are low-resolution. This is done to mimic the actual resolution seen in old x-ray machines in airports.
Once you have successfully passed the x-ray test you will be presented with the Basic English and Math test. Let's see what you need to know for this test…
GardaWorld Pre-Board Screening Officer English and Basic Math Test
In this portion of the pre-employment exam, your reading comprehension skills, mathematical skills, logical skills, and understanding of the English language will be tested. All in all, you will be given 60 minutes to answer 100 questions.
Here's a breakdown of the test subjects and the number of questions in each section:
| | |
| --- | --- |
| Spelling | 40 |
| Grammar | 10 |
| Reading Comprehension | 10 |
| Logic | 10 |
| Math | 20 |
| Competency-based | 10 |
How do we at PrepTerminal help you prepare for the verbal reading and comprehension? Our preparatory course will teach you how to strategically approach the verbal and reading comprehension sections of the GardaWorld test speedily and effectively.
Assuming you pass these two tests, and with PrepTermianal's preparation course you greatly increase your chances, you will be off and running to the interview stage.
More about the interview stage…
GardaWorld Pre-Board Screening Officer Interviews
The first part of the GardaWorld Pre-Board Screening Officer interview process is conducted immediately after passing the English and Basic Math Test.
The interview will be conducted by a number of senior GardaWorld employees or assessors and will generally run for 10 minutes. The second interview will be arranged sometime in the near future, sometimes as early as the day after. It will last for around half-an-hour.
How do we at PrepTerminal help you pass the personal interview?
We will teach you how to see things from the perspective of the interviewer. PrepTerminal's prep course will also help you become familiar with the most frequently asked interview questions, so you can ace your interview.
---
More About How PrepTerminal Can Help In The GardaWorld Pre-Board Screening Officer Exam
It's important to remember that in this pre-employment test you can't continue with your application if you fail the X-ray object recognition test.
After all, it does measure your ability to identify dangerous objects in a short amount of time and making a mistake could compromise the safety of the airport you are assigned to.

The GardaWorld Pre-Board Screening Officer Exam isn't just some pre-employment test that wants to know if applicants have good 'spot the dangerous item in the x-ray scanner' skills. It is meant to discover if the candidate has the necessary observation skills to actively search for threats in a passenger's luggage while minimizing mistakes or causing delays because they thought that a harmless object looked like a prohibited item.
It's in your best interest to ace this test, to show GardaWorld that you are a top candidate.
As only 30% of applicants manage to get through the first part of the exam, you will need to prepare as much as you can.
With our GardaWorld Pre-Board Screening Officer Exam Preparation Course, we help you ensure that you not only ace the X-ray test but also sail through the English and Basic Math test with our comprehensive study guides, practice questions, and a full range of mock tests.
Our experienced course developers have produced a hands-on and comprehensive curriculum that provides everything you need to know to pass the test with flying colors.
Get started today and land your dream job as a GardaWorld Screening Officer.
---