Get Ready for Police Psychological Exam with our In-Depth Prep Course
Your Comprehensive Guide to Acing the Police Psychological Exam!
Embarking on a career in law enforcement requires thorough preparation, especially when it comes to the Police Psychological Exam. Our comprehensive course offers an in-depth exploration of the concepts and skills you will need to excel in this critical assessment. Developed by professionals with intimate knowledge of the police force, this course is designed to support and guide you through every aspect of the examination, ensuring that you are not only ready but confident in your abilities. Begin your journey toward success with us today.
Let's break down what a psychological exam is and what it incorporates.
Understanding the Police Psychological Exam
Police psychological exam is a screening test used to evaluate various aspects of an applicant's overall psychological well being, personality traits, decision-making abilities, problem-solving skills, emotional stability and resilience.
This test is a valuable and non-negotiable asset for employing law enforcement officers as it aims at identifying any psychological issues or personality traits that may affect an individual's ability to perform the duties as a law enforcement officer. The test employs psychological questionnaires, interviews, situational judgment tests, and cognitive assessments to thoroughly evaluate a candidate's personality and readiness for law enforcement roles
This test is one of the final stages in the law enforcement hiring process, following other steps like background checks, physical fitness tests, polygraph exams, and interviews.
Role of Psychological Test in Recruiting Police Officers
The Psychological test serves as a crucial filter for law enforcement agencies, ensuring that potential officers possess the resilience and aptitude necessary to manage the unique challenges and stresses of law enforcement work. By focusing on the psychological profile of candidates, this exam plays a vital role in safeguarding both officer well-being and public safety. Here is what they generally test: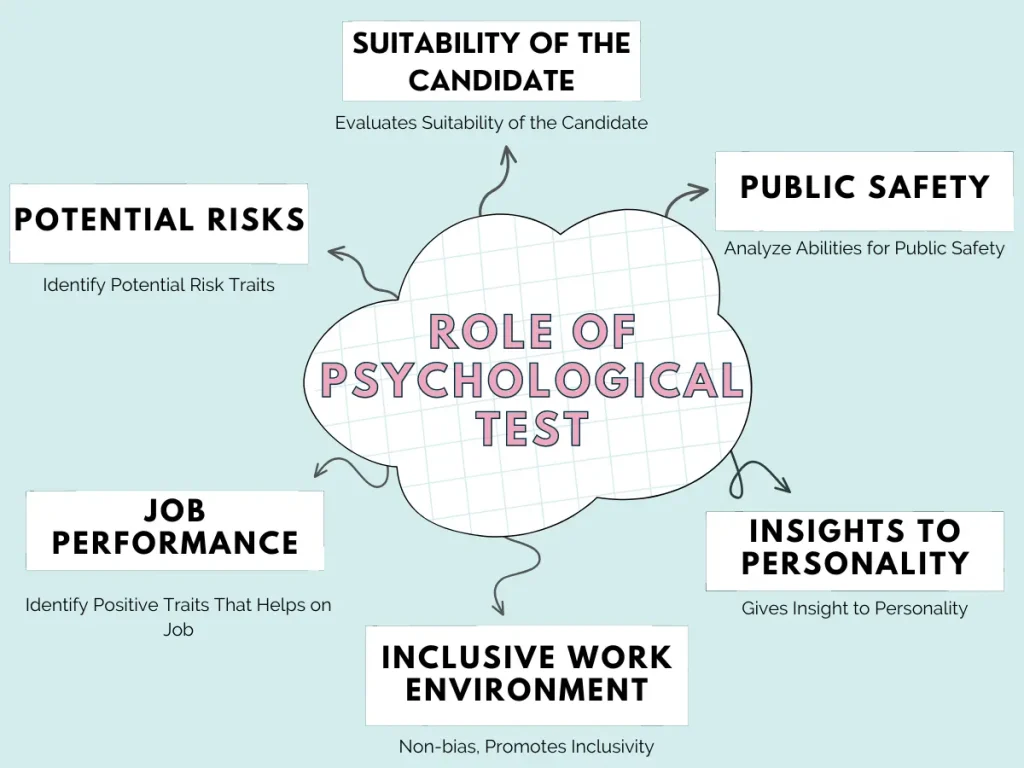 Take our Free Practice Test
Police Psychological Test Process
The police psychological exam's specific procedures may differ across various police departments, but the general process typically includes:
This is the preliminary stage where candidates complete questionnaires about personal history, attitudes, and emotional well-being. The information gathered provides initial insights into their self-awareness of strengths and weaknesses.
This self-assessment provides the psychologist with initial insights into the candidate's awareness of their strengths and weaknesses.
Series of Psychological Questions
During the psychological test, applicants are presented with a series of psychological questions, which can be in various formats, such as multiple-choice, true/false, or open-ended responses covering candidate's personality traits, emotional stability, decision-making abilities, problem-solving skills, stress management, and moral judgment.
Some questions may be situational, asking candidates to respond to hypothetical scenarios they might encounter as police officers, others may explore their past experiences or coping mechanisms in challenging situations.
Face-to-Face Interview with a Psychologist
Following the psychological questions, candidates engage in a personal interview with a licensed psychologist. This in-depth discussion delves into their background, experiences, and motivations, and it probes any psychological concerns that may have arisen earlier in the process.
Follow-up questions are asked as needed, allowing candidates to expand on influences shaping their interest in law enforcement. The interviewer evaluates various attributes such as communication skills, emotional stability, honesty, stress tolerance, and self-awareness, all of which contribute to a final determination of the candidate's readiness for a career in law enforcement.
The Core Qualities Tested in the Police Psychological Test
The specific components being tested can vary depending on the police department or agency, but some common core qualities being tested are included in the table below:
| Core Qualities | What it means |
| --- | --- |
| Emotional Stability | refers to the emotional resilience and ability to cope with stress |
| Impulse Control | refers to the ability to control impulses and maintain self-control, especially in high-stress situations |
| Judgment and Decision-Making | refers to the ability to make effective decisions quickly and accurately while under pressure |
| Conflict Resolution Skills | refers to the ability to handle conflicts peacefully, diffuse tense situations, and promote cooperation |
| Communication Skills | refers to the ability to communicate respectfully and effectively with diverse populations |
| Assertiveness and Confidence | refers to the ability to be assertive and confidence in managing challenging scenarios |
| Empathy and Compassion | refers to the capacity for empathy, sensitivity, and support when dealing with individuals who have experienced trauma. |
| Coping Mechanisms and Stress Management | refers to the their coping mechanisms and stress management techniques to ensure they can maintain well-being. |
| Time Management and Organizational Skills | refers to their organizational skills and skills to effectively manage time |
| Compliance | refers to the ability to accept authority and follow departmental policiesor rules |
| Personal Accountability and Responsibility | refers to whether they comply to the accepted societal standards and are willing to take responsibility for their actions and decisions. |
| Conflict of Interest, Moral Judgement and Ethical Dilemmas | refers to the approach to handle conflicts of interest,and ethical challenges with inetgrity |
| Motivation | refers to motivation for pursuing a career in law enforcement and desire to serve community |
| Teamwork | refers to the ability to work with others and accepting views different than his |
| Self Awareness and Self Confidence | refers to the ability to evaluate themselves, manage their emotions,how others perceive them and how confident they are. |
| Personal Bias | refers to the ability to not let personal views affect work by discriminating against any individual and how easily they are swayed by others opinions. |
| Substance Use | refers to taking prior history of substance use to identify potential risks |
Exam Format & Question Types
While many police departments use the police psychological exam, as mentioned the specific details of the evaluation process and the weight given to the results may vary from one department to another. Each department may have its own set of criteria and standards for evaluating candidates' mental and emotional fitness for a career in law enforcement. Almost all departments give candidates a standardized multiple- choice questionnaire- either they design it themselves or one that is used by psychologists.
While, the question format and types can differ from one department to another, following are the tests that our prep course can help you prepare for:
Minnesota Multiphasic Personality Inventory or MMPI-2

NEO-PI-R

California Personality Inventory

Inwald Personality Inventory (IPI)-2

The State-Trait Anger Expression Inventory-II or STAXI-II

The Personality Assessment Inventory PAI

Situational Judgment Tests
Generally the time limit to complete a psychological test can be upto 1 hour depending on the criteria set by the department.
Sneak Peek into Our Police Psychological Prep Modules
How Our Prep Course Can Help
Comprehensive Content Coverage
Our course offers you an in-depth understanding of the content.Through our guide, you will gain a well grounded understanding of the core components and expected questions that are typically presented in the test.
Realistic Practice Quizzes
Our course covers a variety of personality related questions giving you the opportunity to reflect and assess your traits/ patterns and get insight into your personality. The more you know about yourself the more confidence you will have.
Our course provides additional tips allowing you to counter the psychological exam with confidence and stay motivated.
Frequently Asked Questions (FAQ's)
In the US, both large and small police departments often use the police psychological exam into their hiring procedures. This includes municipal police departments, county sheriff's offices, state police agencies, federal law enforcement agencies, and other specialized law enforcement units.
In Canada, similar practices are followed by various police departments and law enforcement agencies, including the Royal Canadian Mounted Police (RCMP) and municipal police services.
How can your course help boost my confidence?
Our course not only offers an in-depth explanation of the content but also provides hundreds of personality- related questions, giving you an opportunity to think about your strengths, weaknesses and behavioral patterns. We include information about the expected question patterns and traits that may be assessed. Moreover, our practice quizzes gives a golden opportunity for you to think like a law enforcement officer.
Does your course guarantee a specific score on personality questionnaires?
While we aim to familiarize you with the concepts and question pattern to enhance your knowledge and guide you into success, we cannot guarantee a specific score or selection. It depends on multitude of factors such as department criteria, your individual characteristics and awareness etc.
Is there a set pattern of questions or questionnaires used?
No there is no set pattern of questions or questionnaire asked in a psychological exam that you can familiarize yourself with. While many departments use psychological exams to assess the candidate before hiring, the specific details, questions, and weight given to answer vary from one department to another. Before applying, research and get all the information you can get from the department you are applying for.
*Note:

Police Psychological and other trademarks are the property of their respective trademark holders. None of the trademark holders are affiliated with PrepTerminal or this website.