Nail the 2023 SHL OPQ32 Personality Test: In-Depth Prep Course & Practice Scenarios
Expert-Designed | Real Test Simulation | Quality-Assured Prep Material
Ready to tackle the SHL OPQ and enhance your career prospects?Let our all-inclusive SHL OPQ Prep Course be your roadmap.
The SHL Occupational Personality Questionnaire test is a widely used among employers to pick the most suitable candidates for various job roles. The purpose of the SHL OPQ test is to pinpoint your strengths and weaknesses. This information helps employers to decide if you're a suitable match for the position they are filling or not.
Unlike other SHL assessments, the OPQ test doesn't gauge an individual's skills. Instead, it concentrates on characterizing their personality and aligning it with the qualities needed for a particular role. Essentially, there's no strict right or wrong answer. The responses from the test taker significantly aid potential employers in understanding their professional demeanor and evaluating how well they might blend into the distinct culture and work style of the company.
Different Types of OPQ32 Tests
Designed to examine personality traits, the OPQ tests offer a concise snapshot of an individual's character. These personality assessments have seen substantial evolution over time, resulting in the most recent version – the OPQ32. This model evaluates 32 personality traits, categorizing them into three main domains: Relationships with People, Thinking Style, and Feelings and Emotions. To accommodate various assessment needs, the OPQ32 comes in three unique formats, each differing in the number of questions and the time required for completion.
The OPQ32n and OPQ32i are two distinct versions of the OPQ test. The normative version (OPQ32n) asked test-takers to respond to statements on a scale, indicating their level of agreement or disagreement. On the other hand, the (OPQ32i) ipsative scale version presented multiple statements, and test-takers had to choose one statement that was most like them and one that was least liked by them, forcing a choice between equally desirable options.
However, the ipsative scale version (OPQ32i) has now been replaced by a new version known as OPQ32r. This new version also employs a forced-choice format, but it uses item response theory (IRT) to generate scores. IRT is a theory that allows for the evaluation of a person's latent traits (in this case, personality traits) based on their responses to items (questions) on a test.
Here's a glimpse into the type of questions you can expect to encounter in the most recent version, the OPQ32r, as part of the SHL OPQ test:
Which Statement describes you most?
I often volunteer to lead projects at work.
I like to brainstorm ideas before starting a task.
I prefer to finish one task before moving on to the next.
Now, if you select 'I prefer to finish one task before moving on to the next.', that option will disappear from the screen, leaving you with the remaining two options:
Of the remaining two statements, which one describes you most?
I often volunteer to lead projects at work.
I like to brainstorm ideas before starting a task.
You are then required to select the statement that is the next best reflection of your professional behavior.
The SHL OPQ Test Structure
SHL's OPQ uses OPQ32r (shorter ipsative format), which contains 104 questions presented as blocks of 3 statements summing it up to 312 statements. This format uses a forced choice format which requires choosing two statements that are most applicable to them, which makes it difficult to cheat or manipulate answers and hence is preferred by employers.
Designed with the professional environment in mind, this questionnaire includes items that are closely related to both individual and team dynamics within an organization. The test, accessible in 37 languages, is mobile-friendly and includes questions that often echo earlier ones, requiring you to select both a primary and secondary choice that best describes you.
Each question ties directly to a work-based scenario, asking you to select the options that best match your professional persona. Remember to consider your answers in the context of a work setting.
At the beginning of every question, you'll be presented with three statements. Your job is to pinpoint and choose the one that most closely mirrors your professional self. After making your initial selection, the chosen statement will disappear, leaving you with two options. Your next task is to choose the one from these remaining options that you feel is the next best description of your work personality. This interactivity adds another layer of engagement to the test.
Though the test allows you to revise your last response, you cannot navigate back further than that, so careful consideration is essential.
How is the SHL OPQ Scored
The SHL Occupational Personality Questionnaire (OPQ) is designed to assess an individual's fit for a role and predict their future performance. SHL uses its own scientific database to report different personalities of people. These reports are further relied upon by many employers.
Although we don't have access to the specific database and technology that SHL utilizes to generate their personality reports, we've developed a rating system in our practice test that is based on common personality traits. These are the traits that employers often seek when they're trying to find the perfect balance of characteristics for various roles.
For Example, if your personality is characterized by influence, quick decision-making, autonomy, calmness under pressure, and a high level of emotional control and optimism, our rating system might mark you well on the leadership trait.
Lets break the SHL OPQ Questions under three main categories:
Relationships with People
These types of statements evaluate your capacity to establish and nurture relationships with others. Your manner of engaging, expressing, and showing understanding towards others can notably influence your professional environment and the overall group synergy.
Sample Statements
I am capable of influencing others to see my point of view.
I am comfortable taking control of a situation when needed.
I often voice my opinions, even if they differ from the group's consensus.
I respect and value the opinions of others in decision-making.
I often consider the emotions and circumstances of others before reacting.
I believe in treating everyone fairly and equally.
This category checks your cognitive processes, problem-solving strategies, and overall approach to comprehending and dealing with work-related scenarios. It considers your analytical abilities, creativity, adaptability to change, and attention to detail and rules.
Sample Statements
I am able to understand complex problems and concepts easily.
I frequently analyze information in a logical and systematic manner.
I enjoy proposing innovative solutions to problems.
I can quickly adapt to new environments and unexpected changes.
I usually plan for future events and possibilities.
I am meticulous and thorough in completing my tasks.
I tend to follow rules and procedures in my work.
This section evaluates how you handle your own emotions and respond to others' emotions in the workplace. It measures your emotional stability, optimism, trust, competitiveness, and decision-making speed under different circumstances.
Sample Statements
I usually remain calm and composed even under high pressure situations.
I am generally an optimistic individual, looking at the brighter side of situations.
I tend to trust people and believe in their intentions.
I am competitive and strive to outperform my personal best.
I am quick at making decisions, even in complex situations.
I am able to control my emotions effectively in a professional setting.
Key Skills Measured by The SHL OPQ Assessment
The SHL OPQ Assessment is engineered to evaluate key skills that align with an individual's potential performance in distinct job roles. The assessment offers a comprehensive analysis of critical competencies, shedding light on personal strengths, development areas, and job role compatibility. Here are the main skill categories evaluated by the SHL OPQ: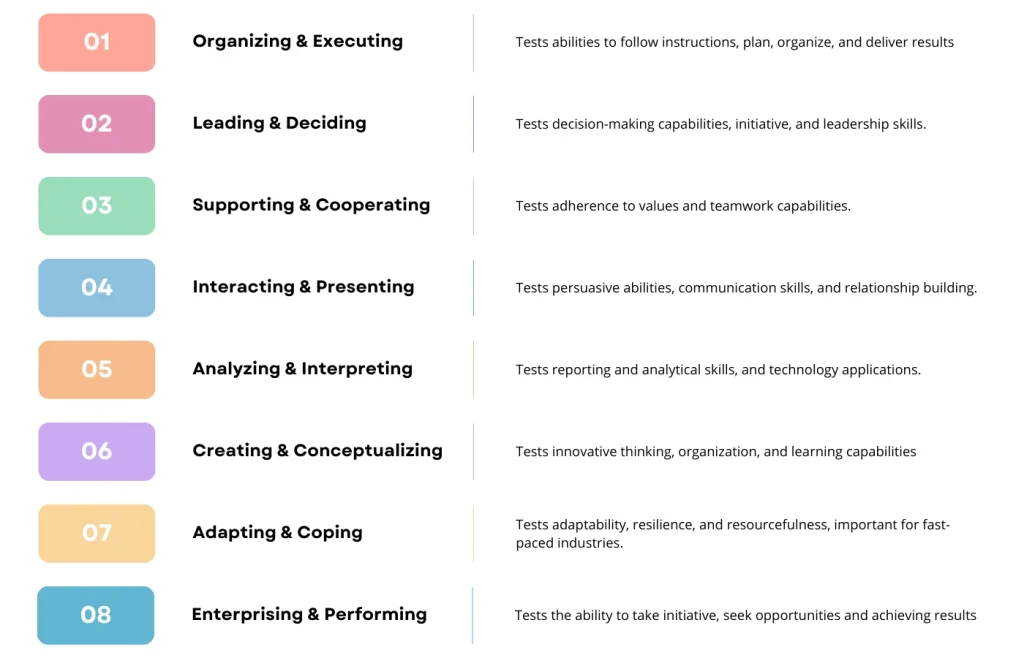 Sneak Peek into Our Complete SHL Prep Course
How Our Prep Course Can Help You Score Better
Exhaustive Content: Our curriculum meticulously covers every detail of the SHL OPQ. For instance, if the assessment seeks to understand your 'influence' trait, we provide in-depth materials on how to recognize and develop this skill, with exercises that prompt you to persuade others or take the lead in hypothetical scenarios.
Authentic Practice: With hundreds of occupation-related statements, you'll have a broad spectrum of practice opportunities, priming you for the real SHL OPQ assessment. These practice scenarios are designed to enhance your confidence, enabling you to tackle the actual test with ease and assurance.
Effective Tactics: We offer practical advice and techniques to help you demonstrate your abilities effectively and align them with employers' sought-after traits, providing a distinct competitive advantage.
Logical Statement Explanations: We delve into the rationale behind each statement in our sample statemnst and how it can shape your personality traits, providing a comprehensive understanding that goes beyond simple practice.
Additional Tips for Confidence Growth: Our course provides valuable tips to build your confidence, explaining how different traits indicate varying personality types, allowing you to present yourself most effectively in the final exam.
Our comprehensive preparation strategy guarantees that you are not only prepared, but also poised and self-assured as you tackle the SHL OPQ Assessment. We suggest that you experience our free practice questions first, aiding in your decision-making process before making a purchase.
Frequently Asked Questions(FAQ's)
How does your course compare to the actual SHL OPQ test?
Our preparatory course meticulously aligns with the actual structure of the SHL OPQ test. While we may not have direct access to the precise technology SHL employs for their reporting, our system capably benchmarks your key skills that are vital for various job roles as sought by employers.
How can your course help boost my confidence?
Our course offers an in-depth insight into the SHL OPQ, explaining logics behind sample statement and its implication on personality traits. We include dedicated lessons for all the major traits assessed in the SHL OPQ and we have abundant practice exercises that aim to boost your self-assurance while approaching the real test.
How does your course help me understand the relationship between my responses and potential job roles?
Our course doesn't just offer practice questions. It educates you about the connection between your responses and the requirements of different job roles. You'll understand how particular personality traits are desirable for specific professional positions.
For instance, if a role requires leadership, traits like decisiveness, assertiveness, and influence would be desirable. Conversely, a team-based role might value cooperation, empathy, and adaptability.
Will I have access to additional resources for practice and learning?
Yes, our course provides a vast array of workplace-related statements for extensive practice. It also includes practical tips and advice, all aimed at preparing you to shine in the final assessment.
*Note:

SHL and other trademarks are the property of their respective trademark holders. None of the trademark holders are affiliated with PrepTerminal or this website.