Master the MVPI Test 2023:Premium Prep and Free Practice
Unlock Your Potential and Land Your Dream Career!
The MVPI is not just a typical questionnaire—it is more like a mirror that shows what really pushes us forward in our jobs, the values we care about, and the preferences that shape how we work. It uncovers the core things that make employees happy and effective in their jobs. For folks in HR, employers, and psychologists, it is a super useful tool, helping to match people with jobs where they don't just fit in, but genuinely thrive.
With our MVPI prep course you can demystify the MVPI and understand what it is all about. Consider this course your friendly guide, explaining the key parts of the assessment, and giving you a sneak peek through sample questions to know what to expect.
By the end of this course, you will not only understand the MVPI better but also gain insights that could be a game-changer in your career journey. So hop on, explore the MVPI with us, and take a step closer to a job you will love and thrive in.
What is MVPI (Motives, Values and Preferences Inventory)?
The MVPI is a psychological assessment test commonly used in organizational and workplace settings to evaluate an individual's motivations, values, and preferences. Think of it as a deep-dive tool that organizations use to understand what makes their employees tick. It's not just some dry questionnaire—it's a way to uncover what people really value and what motivates them in their jobs.
So, for all the HR pros, employers, or psychologists out there, the MVPI is Like a treasure map. It is the key to ensure that people are not just in the right job, but they are thriving and loving what they do. And for you, it is a great way to introspect and find what really makes you tick at work.
By tapping into the insights attained by MVPI, companies can ensure that everyone is on the same page- aligning personal passions with the company's goals. It's a win-win: employees feel more satisfied, and businesses can make smarter choices about roles and career paths. Whether you are encountering an employer, someone in HR, or a psychologist, the MVPI helps to them ensure you are a good fit for their company culture.
The MVPI takes a thorough approach to uncover an individual's fundamental values, the driving forces behind their actions, and their personal preferences. What adds an intriguing dimension to this assessment is its breakdown into 10 primary categories, each of which contains 5 themes that delve even further. These elements act as the linchpin for unraveling the intricate mosaic of a person's identity, offering a detailed and comprehensive understanding of what makes them truly unique.
Now, let's explore what the MVPI encompasses.
The MVPI's 10 primary scales and 5 themes are closely related, forming a hierarchical structure. The scales represent broad categories, while the themes are finer-grained subdivisions within each scale. This relationship allows for a comprehensive analysis of an individual's values and motivations, providing a detailed understanding of their character.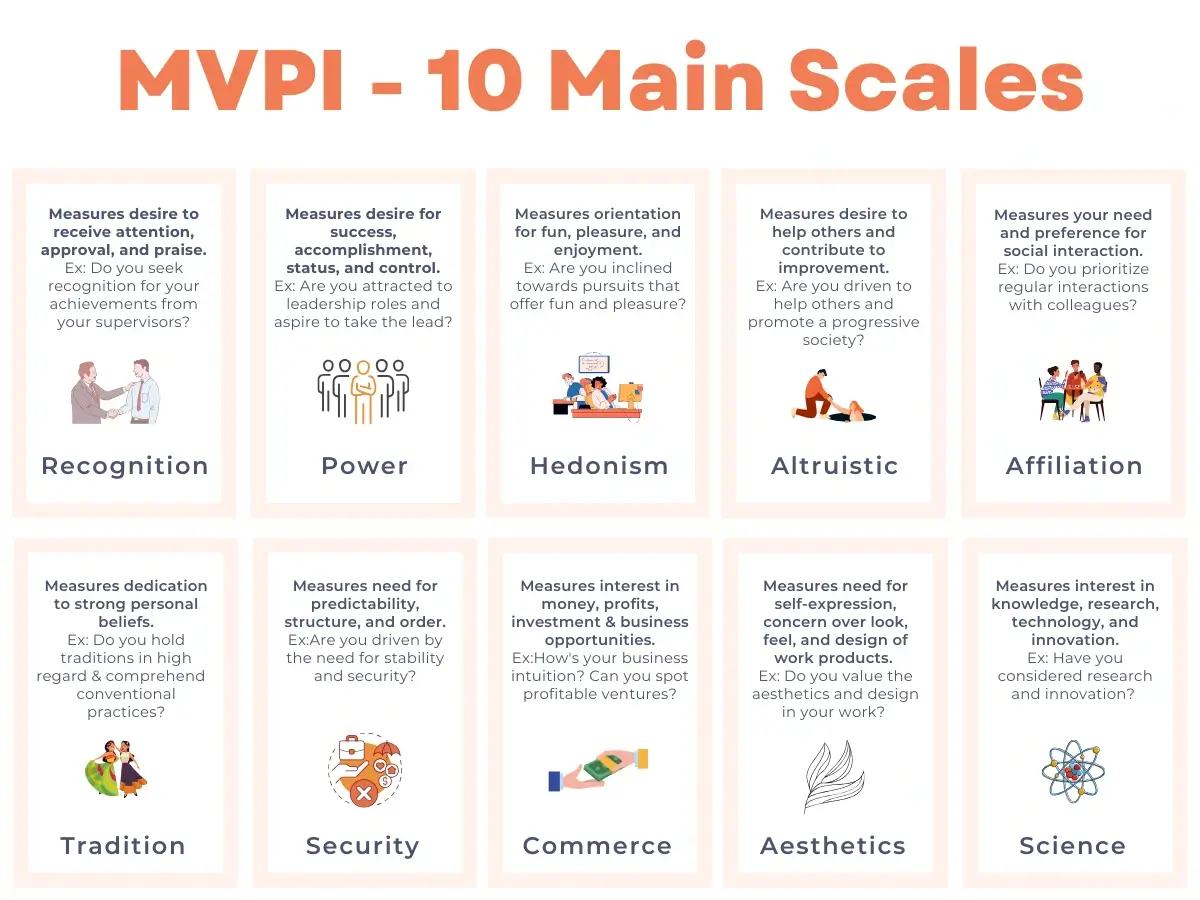 Let's take a look at the MVPI underlying themes common to all the scales and what they mean in organizational sense.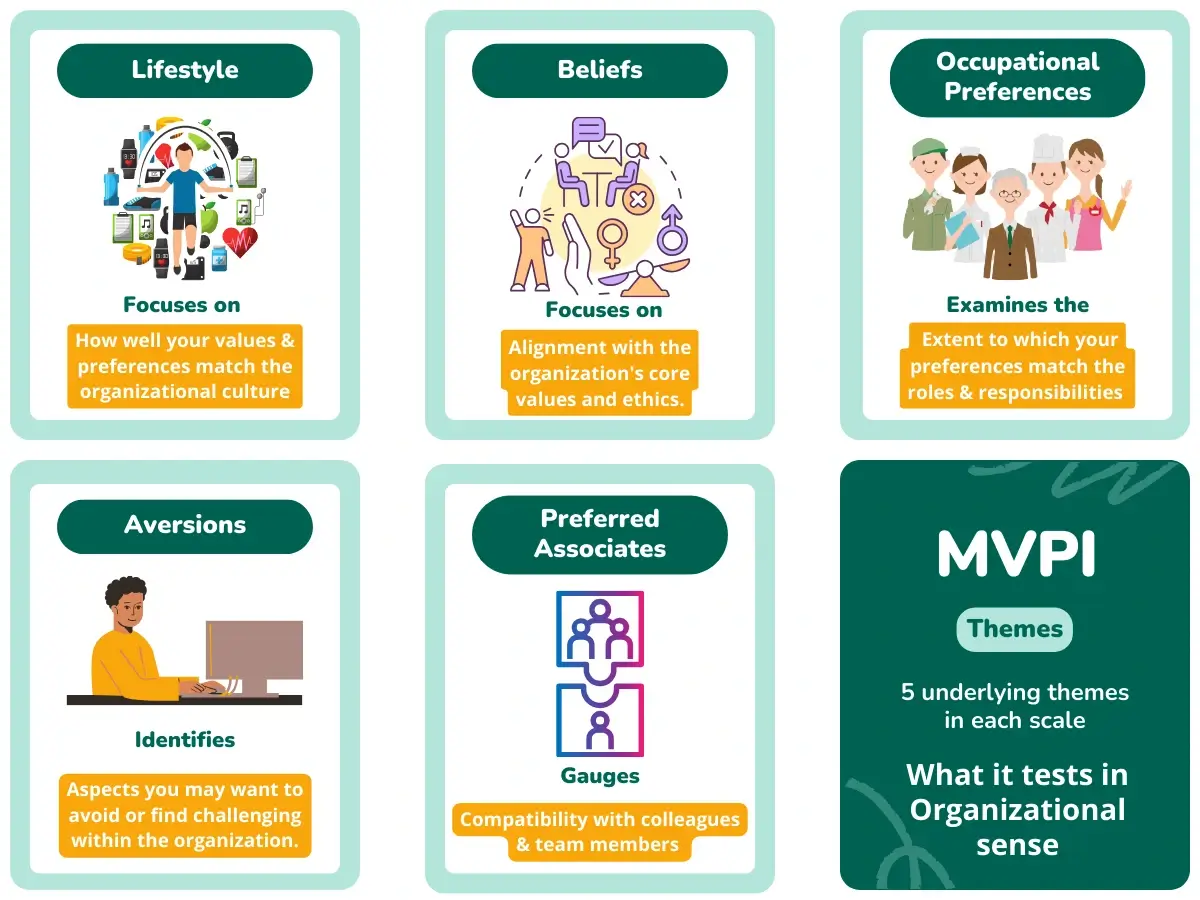 MVPI Question Types & Test Format
The MVPI questionnaire is a simple survey designed to understand people's personal views and choices. It has 200 statements, and you need to say if you agree, aren't sure, or disagree with each one.
The way you rate the statements carries a lot of weight as it unveils your intrinsic motivations and values. Through their ratings—whether they agree, are uncertain, or disagree—it becomes evident what their stances are towards various scenarios or ideas presented in the statements. This pattern of responses can be a telling reflection of an individual's personal and possibly professional inclinations.
To get a complete understanding of someone's personality, the Motives, Values, Preferences Inventory (MVPI) is often used alongside the Hogan Development Survey, which looks at 'dark-side' traits, and the Hogan Personality Inventory, which focuses on the more positive aspects of one's personality. All of these assessments are offered by Hogan Assessments.
Let's take some examples to understand the question-response format better.
Question:
In social situations, I often find myself in roles where my accomplishments naturally come to light.
Explanation:
Choosing "Agree" indicates that the individual believes that their accomplishments are frequently recognized or become apparent in social situations. This suggests a higher need for external validation and recognition.
Selecting "Uncertain" suggests that the individual is unsure or doesn't have a clear perception of how often their accomplishments are noticed in social settings. This could indicate a lack of self-awareness in this particular area or a tendency to not pay much attention to social recognition.
Opting for "Disagree" implies that the individual believes their accomplishments are not naturally highlighted in social situations. This may indicate that they don't seek or value external recognition as much, or they might feel that their achievements often go unnoticed in social contexts.
Question:
I'm drawn to challenging situations and view life as a competition, always striving for success.
Explanation:
If someone agrees with this statement, it suggests that they have a strong motivation for power and success. They are likely to be driven by competition and challenging situations and are highly oriented towards achieving their goals.
An uncertain response may indicate that the person is not entirely sure about their motivations in this area or that their attitude towards power and competition may vary depending on the context. They may have mixed feelings or experiences related to this statement.
A disagree response suggests that the person is not primarily motivated by power and competition. They may have different values and preferences, such as a focus on collaboration, personal growth, or work-life balance, and may not see life as a constant competition for success.
Question:
I may become uncomfortable in situations that require extended periods of solitude or isolated work.
Explanation:
Individuals who agree with this statement may indicate that they are more oriented towards social interaction and prefer working in a collaborative environment. They may find prolonged solitude or isolated work challenging or discomforting. Such individuals may thrive in roles that involve teamwork and social engagement.
People who are uncertain about this statement may not have a strong preference for either solitude or social interaction. They may be adaptable and able to work effectively in various environments, depending on the circumstances. Their comfort level may vary depending on the task at hand.
Those who disagree with this statement may suggest that they are more comfortable with extended periods of solitude or isolated work. They may be self-reliant and capable of working independently without feeling discomfort. Such individuals might excel in roles that require focused, independent work.
Ready to Transform Your Future?
Join the ranks of successful dispatchers who've prepared with us.
🔴 Enroll Now to embark on your journey to success!
Take a look at our MVPI Course Modules
Here is What You Can Expect in Our Prep Course
Unveil Your Potential with These Exciting Features:
📚 Comprehensive Prep Guide: Packed with insider tips and strategies.
🔍 In-Depth Domain Insights: Explore hidden connections between motives, values, and preferences.
📊 Score Clarity: Understand your results with a detailed explanation of what your scores really mean.
💯 200+ Practice Questions: An extensive library of practice questions.
🌟 Realistic Trait-Related Questions: Questions that mirror the real MVPI
Ready to unlock your potential and align with your ideal job? Enroll now!
*Note:

Hogan and other trademarks are the property of their respective trademark holders. None of the trademark holders are affiliated with PrepTerminal or this website.