Hogan Personality Inventory (HPI) 2023: Free Practice Tests & Prep Course
Unlock Your Potential and Land Your Dream Career!
Navigating the competitive job landscape? It is no secret that organizations are looking for more than just skills; they want to know if you will gel with their culture and ethos. That is where the Hogan Personality Assessment comes into play.
Our HPI prep course will take you through all the nitty-gritty of the assessment. Instead of diving into the deep end without a clue, our course ensures you know what is coming. From understanding the core components of the test to getting familiar with sample questions, we have mapped it all out for you. And hey, everyone gets those pre-test jitters, right? Our course has a ton of practice questions to help you shake off that nervousness and face the assessment with confidence.
So, are you ready to tackle the competion? Dive into our prep course and get to know the Hogan Personality Assessment like the back of your hand.
What is HPI (Hogan Personality Inventory)?
The Hogan Personality Inventory (HPI) unlike the HDS test is designed to delve into the "bright side" of your personality. Think of it as shining a light on those traits you typically exhibit when you are at your best, especially in daily scenarios.
HPI zooms in on a plethora of personality dimensions that play pivotal roles in our professional lives. Imagine traits like ambition, which could define how high you aim in your career; or sociability, dictating how well you mingle and network. Then there is emotional resilience, an underrated but essential trait for dealing with workplace challenges, and of course, interpersonal effectiveness, which evaluates how adept you are in your dealings with colleagues and many more.
Organizations love the HPI because it provides a crystal-clear whole image of how you are, how well you are likely to gel with teammates, tackle tasks head-on, and essentially be a team player.
To achieve this wholistic image the test employs two scales: the Primary and the Occupational scales. While the Primary scales focus on painting a portrait of your personality traits, the Occupational scales act like a career compass, guiding the organizations by providing insights into how well-suited you might be for a particular job role. It is a bit like matching your personality ingredients with the recipe for success in diverse occupations.
In essence, the Hogan Personality Inventory is akin to a mirror that does not just show your face but unravels the intricacies of your character, especially in the context of the workplace.
Let's break down and understand the Components of the Hogan Personality Inventory.
The Foundation: The Big Five Factors
The HPI is inspired by the 'Big Five Factor Theory' of personality. Sounds fancy, right? In simpler terms, it is a theory that categorizes our personality into five broad dimensions: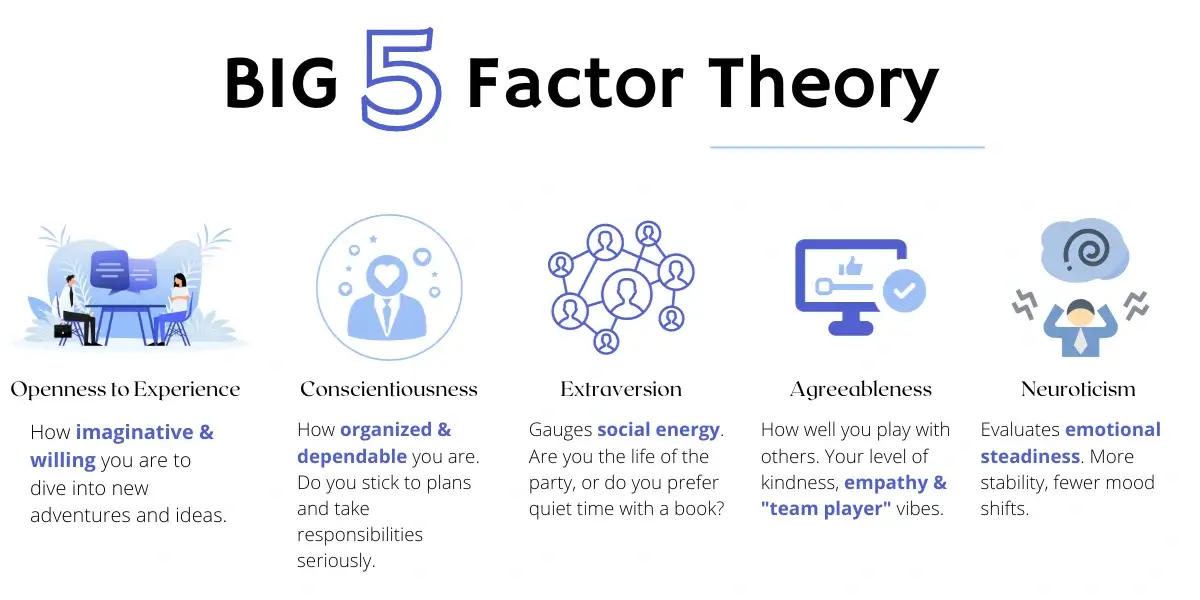 7 Primary Scales of the HPI
Building on these foundational traits, the HPI narrows down to seven specific personality traits that are super relevant in work settings:
| Primary Scales | What it Assesses? |
| --- | --- |
| Adjustment | Emotional stability, resilience, and ability to cope with stress. |
| Ambition | Drive to achieve, compete, and succeed. |
| Sociability | Comfort and effectiveness in social interactions |
| Interpersonal Sensitivity | Ability to empathize, understanding others' emotions, and interpersonal effectiveness |
| Prudence | Conscientiousness, attention to detail, and responsible behavior |
| Inquisitive | Curiosity, openness to new ideas, and a willingness to explore |
| Learning Approach | Eagerness to learn, ability to adapt, and openness to feedback. |
6 Occupational Scales of the HPI
Besides the primary scales, the HPI also looks at how well your personality matches certain job roles by using six occupational scales.
| Occupational Scales | What it Entails? |
| --- | --- |
| Service Orientation | Being attentive, pleasant, and courteous to customers |
| Stress Tolerance | Being able to handle stress, even-tempered, and calm under fire |
| Reliability | Honesty, integrity, and positive organizational citizenship |
| Clerical Potential | Follows directions, pays attention to detail, and communicates clearly |
| Sales Potential | Energy, social skills, and the ability to solve problems for customers |
| Managerial Potential | Leadership ability, planning, and decision-making skills |
The Hogan Personality Inventory (HPI) is a fascinating tool designed to delve into the intricacies of one's personality. HPI consists of 206 multiple choice questions in true/false or yes/no format and it usually takes just 15 to 20 minutes to finish the entire test.
But do not let its brevity fool you. Despite its relatively short duration, the HPI can be complex. It uses a layered approach, breaking down your personality into 7 primary scales. Each of these scales further branches out into different subscales, totaling to 42 nuanced dimensions. This means, by the time you are done, you get a comprehensive understanding of multiple facets of your personality, revealing both strengths and areas for development.
In essence, while the HPI is quick to complete, the insights it provides are deep and multifaceted, giving you and the employer a clearer picture of who you are.
To obtain a comprehensive view of an individual's personality, HPI is frequently administered in conjunction with the Hogan Development Survey, which assesses the 'dark-side' personality traits, and the Motives, Values, Preferences Inventory, which delves into the inner aspects of one's personality, including motives and values. These assessments are all provided by Hogan Assessments.
Let's take some examples to understand the question-response format better.
Question:
I tend to get annoyed by others easily.
Explanation:
Response Choice: Yes
Reflection: Indicates a potential lack of patience or tolerance in interpersonal interactions. The individual may be quick to judge or get frustrated by others. This could suggest a lower level of interpersonal sensitivity, implying challenges in working harmoniously within diverse teams or handling interpersonal conflicts.
Response Choice: No
Reflection: Suggests a higher level of patience and understanding in interactions. The individual is less likely to get irritated by others and exhibits higher interpersonal sensitivity. Such individuals are generally perceived as easy-going and are often more adept at navigating complex social dynamics.
Question:
I remain calm and composed even when faced with disagreements.
Explanation:
Response Choice: Yes
Reflection: The individual possesses a robust emotional equilibrium and can handle disagreements or conflicts without getting overly agitated. This suggests a higher level of adjustment, which is essential for roles requiring conflict resolution, leadership, or situations with frequent interpersonal challenges.
Response Choice: No
Reflection: Indicates potential challenges in maintaining emotional stability during disagreements. Such individuals might react impulsively or might find it hard to control their emotions during conflicts, suggesting a lower level of adjustment. This trait can be challenging in high-pressure environments or roles requiring constant collaboration.
Question:
I put in extra effort to excel in my tasks.
Explanation:
Response Choice: Yes
Reflection: Demonstrates a strong commitment to tasks, a drive to exceed expectations, and a diligent work ethic. This points to a higher level of prudence, where the individual is not only conscientious but also proactive in ensuring excellence in their endeavors.
Response Choice: No
Reflection: The individual might have a more laid-back approach to tasks or believe in accomplishing them to the required standard without necessarily going above and beyond. This can suggest a moderate or lower level of prudence, which might be suitable for roles where flexibility is more critical than meticulousness.
Ready to Transform Your Future?
Join the ranks of successful dispatchers who've prepared with us.
🔴 Enroll Now to embark on your journey to success!
Take a look at our HPI Course Modules
Here is What You Can Expect in Our Prep Course
Unveil Your Potential with These Exciting Features:
📚 Comprehensive Prep Guide: Packed with insider tips and strategies.
🔍 In-Depth Domain Insights: Explore hidden connections between motives, values, and preferences.
📊 Score Clarity: Understand your results with a detailed explanation of what your scores really mean.
💯 150+ Practice Questions: An extensive library of practice questions.
🌟 Realistic Trait-Related Questions: Questions that mirror the real HPI
Ready to unlock your potential and align with your ideal job? Enroll now!
*Note:

Hogan and other trademarks are the property of their respective trademark holders. None of the trademark holders are affiliated with PrepTerminal or this website.