SHL Inductive-Logical Reasoning Test
Become an SHL Master in Under 4 Hours With Expert Guides & Realistic Mock Exams
Have you been invited to complete an inductive reasoning test as part of your job application process? Inductive reasoning tests are like abstract reasoning or diagrammatic tests. These tests measure your problem-solving ability using non-numerical and non-verbal questions. You will be required to recognize patterns and consistencies among a series of objects in order to predict a trend.
At PrepTerminal our practice SHL inductive reasoning tests have been crafted specifically to prepare candidates and let them know what they should expect in their real inductive reasoning exam. Take our SHL preparatory course to ensure you get the mark you deserve on your inductive reasoning SHL test.
What is The SHL Inductive Reasoning Test?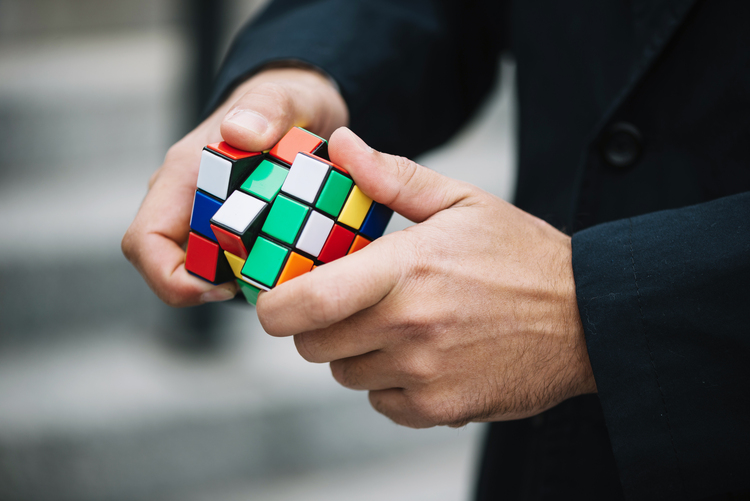 Inductive reasoning tests are created by occupational psychologists and psychometricians to assist with the identification of an individual's skill at solving problems. These tests are similar to abstract reasoning, logical reasoning, and diagrammatic reasoning tests. In inductive reasoning SHL tests, the candidate is required to isolate the underlying rules of patterns and logic and apply this information when selecting the correct answer.
The SHL inductive reasoning test assesses an individual's skill at drawing conclusions and understanding the connection between different concepts, without the need for outside knowledge. It measures the candidate's ability to quickly analyze and interpret abstract information.
Employers often use this tool to support their recruitment decisions. The SHL inductive reasoning test is a psychometric test used when hiring for junior and supervisory manager positions. This test generally lasts for 15-20 minutes and is derived from a large question bank. Thus, no two individuals will be given an identical set of questions.
The SHL Verify Inductive Reasoning test is the most common SHL inductive reasoning test used today. Candidates recruited for graduate-level positions through to senior executive-level positions will, in all likelihood, come across this test. The test will generally feature 24 questions and take 25 minutes to complete.
Types Of Questions in SHL Inductive Reasoning Test
In the inductive reasoning SHL test, the most common type of questions is the Next-in-Series. These questions show the candidate a series of shapes, images or figures that follow a specific pattern. The candidate must find the correct image out of five choices that follow the same pattern to complete the sequence.
What Does SHL Logical Reasoning Test Measure?
An inductive reasoning test assesses abilities that are essential to solving problems. These tests measure your ability to work flexibly with unfamiliar information and to develop solutions. Individuals who perform well on these tests often have a greater ability to think analytically and conceptually.
These tests require you to think laterally and to test out different options in your head. It measures your ability to identify and interpret patterns and tests how well you can identify rules and consistency in sequences of objects and verbal data. To do well on an SHL inductive reasoning test you need to be able to predict how a sequence of given objects should evolve.
An inductive reasoning test gives your potential employer insight into your general intelligence and your overall ability to form judgements. Furthermore, these sorts of tests provide employers with an insight into the way you think and how you approach new situations and rules. Ensure that you present your potential employer with a good image and start practicing for your SHL inductive reasoning test now!
What's The Difference Between Inductive Reasoning And Deductive Reasoning
The key difference between deductive reasoning and inductive reasoning is that deductive reasoning begins with a statement or hypothesis and then tests to see if it's accurate and true via observation. Comparatively, inductive reasoning starts an observation and moves in towards theories and generalizations.
At a glance…
Induction moves from observation to idea where deduction moves from idea to observation.
Induction moves from the specific to the general where deduction moves from the general to the specific.
Inductive arguments have some measure of likelihood that the argument is true- based on the evidence to support it and the strength of the argument. Deductive arguments assume that all the premises are true and have unassailable conclusions.
SHL Inductive Reasoning Sample Questions & Answers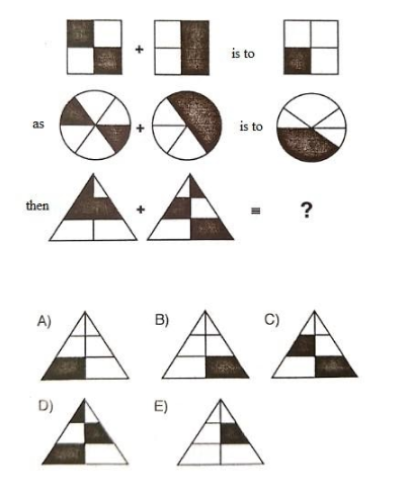 Correct Answer: A
Explanation: The figures are overlapped. However, the condition is that when both parts of a certain section are black, the resultant part is white, otherwise it is black. The only figure that fits this description for the second pair is at A.
How To Pass The SHL Inductive Reasoning Test
Top Tip #1. Examine one aspect of a shape at a time
If you attempt to look at the entire pattern featured in the inductive reasoning test, you may feel overwhelmed. A better approach is to look at one element of the pattern at a time, including the size orientation, and location of an inner shape. It is important to keep in mind that these patterns are intentionally complicated. If you make small assumptions, this could lead to a wrong answer. Carefully study one aspect of a shape at a time.
Top Tip #2. If you get stuck try looking at the END of the pattern
A good way to decode a confusing sequence is to look at it in reverse order. This will let you see the pattern in a new light and may lead to a breakthrough moment.
This may seem simple, but when you are in the middle of the test you may find yourself getting flustered. Nothing will hurt your performance more than losing focus while taking the test. Inductive reasoning tests come with a harsh time limit, which can cause people to feel pressurized. Practicing on timed inductive reasoning tests can help you stay relaxed throughout the real test process.
Top Tip #4. Practice as much as you can
Nothing will help you succeed in the real test more than practising on timed mock inductive reasoning tests. Familiarize yourself with these styles of tests in order to improve your chances of performing to your maximum potential on test day.
Top Tip #5. Carefully manage your time
Keep track of the time throughout the testing period. A good tip is to scan ahead and see how many questions you have left, this will help you decide how much time to allocate to each question. Also, the more you practice the better you will become at finding a balance between speed and accuracy. Though practice you can find your ideal pace.
Top Tip #6. Increase your spatial awareness
It's not easy to enhance innate skills, but it's not doable either. Most people find it challenging to manipulate shapes mentally, however, if you spend time practicing you'll see a vast improvement.
Increase Your Confidence With Prepterminal's SHL Course
As with most of the challenges we are presented with, practice tends to make perfect when it comes to the SHL inductive reasoning test. If you are handed a SHL inductive reasoning test, without much prior knowledge, then this test may give you a bit of a jolt, and this shock alone could affect your score. However, if you have the opportunity to view an inductive reasoning test before test day, and if you can practice your abstract reasoning skills, you'll maximize your chance of succeeding in this test and will have the best chance to optimize your test score.
Practicing your abstract reasoning skills with PrepTerminal's prep SHL course can make all the difference. Skills can always be refined if you put in a little time and effort. By practicing via our SHL course, you get a better understanding of what's included in your SHL inductive reasoning test and you'll be much more likely to score well.
If you want to land your dream job it's essential that you do well in your inductive reasoning test. So why take the chance? Ensure that you enrol in PrepTerminal's preparatory SHL course and you'll be much more calm and confident on the day of the test.
Here at PerpTerminal we understand just how important inductive reasoning skills are in today's job market. We also understand that practice is a key component of success in this tricky test and that's why our team of SHL test experts have developed a preparatory SHL course. Our course allows you to hone your inductive reasoning skills online, from the comfort of your own home.
Once you have seen the style and format of the SHL inductive reasoning test, and have completed several mock tests, you'll be in a much better position come test day. Our module based SHL prep course has everything you need to help you be prepared and confident.
*Note:

SHL and other trademarks are the property of their respective trademark holders. None of the trademark holders are affiliated with PrepTerminal or this website.