CCAT – Criteria Cognitive Aptitude Test
Beat Criteria Cognitive Aptitude Test With Prep Guides and Realistic Practice Tests
The Criteria Cognitive Aptitude Test (CCAT), by Criteria Corp., measures a candidate's aptitude for critical thinking, advanced learning abilities, problem-solving skills and their capacity to use newly acquired information.
The CCAT test is a popular pre-employment cognitive ability test that follows the structure and content of a typical cognitive ability exam. Employers use this test as part of their hiring process to reduce hiring and turnover costs and to identify the right candidate for the job.
The CCAT exam is generally used to predict the performance of individuals applying for middle to upper-level job positions. Including, sales executive, managerial roles, software developers, executive assistants, and software analysts.
If you are looking to advance your career, and are required to take a CCAT exam as part of your application process you have come to the right place. Let us at PrepTerminal help you excel at this test. We will show you how each practice session will bring you closer to your maximum score potential.
The Criteria Cognitive Aptitude Test (CCAT) is a pre-employment aptitude test that assesses an individual's capability to solve problems, internalize and apply information, develop new skills, and think in a critical manner.
Individuals with high aptitude are, in most cases, quicker learners and show better on-the-job performance than individuals with lower aptitude.
The CCAT is made up of 50 questions, and has a 15 minute time limit.
The test covers 3 subjects:
The test covers 3 subjects:
1. Spatial (Abstract) Reasoning – series, matrices, odd-one-out and analogies
2. Math and Logic – number series and word problems
3. Verbal – analogies, syllogisms, antonyms, and general deductive reasoning
The questions in the verbal section of the CCAT test measures how well you can discern a word's meaning, understand the relationship between different words, and identify the role of context in word choice. The CCAT tests math and logic section assesses your ability to understand proportions, use your algebra skills and manage word problems.
In the spatial reasoning questions you are required to flip or rotate shapes and identify patterns and outliers. Your ability to solve spatial reasoning questions will give your employers an understanding of how well you'll be able to problem-solve and learn and make use of new information in the workplace.
Why Do Employers Want To Know About Your Cognitive Skills?
The Criteria Cognitive Aptitude Test is a test used by many employers in order to gauge a potential candidate's ability to train for a new position, and of course, succeed in their job.
Believe it or not, the results tend to be a better predictor of success than interviews and previous job experience. The results are relevant for a wide range of jobs, especially mid and upper-level positions.
You are given 15 minutes to answer 50 multiple-choice questions.
Only 1% of candidates complete all 50 questions.
The average CCAT test candidate achieves 24 correct answers.
Calculators are not allowed during the test.
Top employers from all over the world administer the CCAT test.
Question Types in the CCAT Test
The aim of the CCAT test's verbal questions is to determine your:
General vocabulary
Understanding of word meanings
Knowledge of the significance of context when choosing words
Understanding of how different words are related
No matter what job you are applying for you are bound to need good communication skills. Even daily tasks like speaking to managers, emailing colleagues, or dealing with customers, demands good communication.
Let's take a look at a sample question:
Question: If the first two statements are true, is the final statement true?
In making a dumpling wrapper, the only dry ingredients are flour, pepper, and salt. All dry ingredients were mixed together. The dumpling wrappers are too big.
Answer: C
Explanation:
Although all ingredients and the process for making dumpling wrappers have been established in the first two statements, there are no references regarding the size of dumpling wrappers. The answer is UNCERTAIN.
This section of the CCAT test assesses:
Basic algebra skills
Capacity for defining proportions
Proficiency at working through word problems
You may not have tried your hand at math or problem solving since high school, but in many of today's jobs, your math, and logic skills are of key importance. Furthermore, your number sense and numerical and reasoning skills are directly connected to your ability to solve problems and think in a critical way.
Let's have a look at a question that may appear in the CCAT:
Question: The dryer can dry up to 6 lb of clothes in one hour. Gina has 3.6 lb of clothes. How much less than the maximum capacity of the dryer is this?
Answer: B
Explanation:
Make an approximation.
3.6 out of 6 is more than 50%
But since we are looking for what's left, then we should find something that is less than 50%
So eliminate all choices that are 50% and above.
We are now left with 24% and 40%.
By way of approximation, 40% is much closer
Another way to solve this is by extrapolating from 10%
10% of 6 is 0.6
Seeing that 3.6 is 6 x 0.6, then that would be 60%
That means the answer is 40%
Spatial Reasoning Questions
Your answers will help recruiters identify skills, such as:
Your problem-solving abilities
How you acquire and implement new information
How you perceive and understand images and shapes
You may be thinking… 'What do my spatial reasoning skills have to do with managing people?' You are not alone. Potential employees are often unclear about the role of the spatial reasoning section of the CCAT test. These questions, however, will give your potential employer insight into your innate aptitude.
Let's have a look at an example:
Question: Identify a quality that the two shapes have in common. Select which of the four suggested answers also possesses the quality.
Answer: A
Explanation:
Only choice A is similar with the shapes in the question which comprises one circle, three triangles and six squares (four of which are shaded).
How Is The CCAT Test Marked?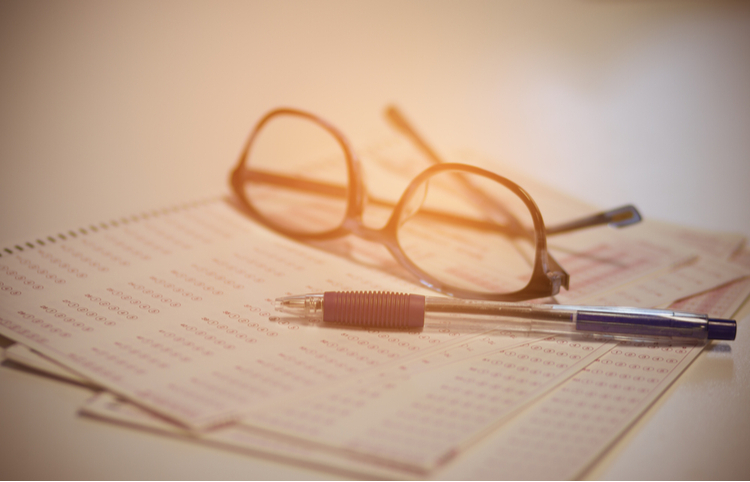 When you complete a CCAT your raw score is calculated using the number of questions you answered correctly. No points are deducted for incorrect answers. This raw score is then converted into a percentile score, which shows your potential employer how well you performed in comparison to the other candidates. The average score for the CCAT is 24/50, therefore if you get a 24, you'll score better than 50% of the population of test-takers who sat the exam before you.
For jobs such as banking, management, software engineering, you should aim to answer around 30/50 questions correctly to be regarded as a strong candidate. Other jobs may require an average score or even a score that is a bit below average.
Achieving your desired score can take several attempts and could demand to focus on specific topics to sharpen your skills.
The good news is that with every CCAT practice test you take or CCAT prep video you watch you will get closer to your maximum score potential in this criteria cognitive aptitude test.
3 Tips For Sitting Your CCAT Exam
No matter how optimistic you are, you may not be able to answer all 50 questions. Focus on the questions that you know and understand, and don't waste your time on questions that cause you to hesitate or waver.
Focus on the subjects that you know
It's safe to say that you will be more comfortable with one or two of the three sections of the CCAT test. Focus on these! If you're a math whiz, don't get stuck on the verbal questions, if verbal reasoning is your forte then don't dwell on math questions you simply don't understand. Make sure you answer as many questions as possible in the sections that you are more familiar with.
If in doubt make an educated guess
This may be an odd tip for test-taking but there is truly no harm in answering a question wrong on the CCAT. If you find yourself stuck on a certain question or question type guess and move on. Remember you won't be penalized for incorrect answers.
How Difficult Is The CCAT Test?
The CCAT test is very hard, particularly for a test-taker who has never seen it. The difficulty is not derived from how hard each specific question is but from other factors such as the tight time limit (18 seconds per question), the need to consistently switch from answering one type of question to another, and the unfamiliarity of the questions.
Thus, candidates who sit practice tests and are familiar with the style of questions have an advantage. Practice lets you manage your time well, identify your strengths, and excel on the test. At PrepTerminal our team of experts in the CCAT test field has carefully crafted video-based and highly accessible material to ensure you achieve your maximum test potential.
PrepTerminal's CCAT Test Prep Course
The passing rate for the CCAT is surprisingly low, in fact, only 20% of people manage to pass the test. The average score is 24 out of 50. Furthermore, less than 10% of people manage to answer more than 35 questions correctly.
However, research has shown that practicing dramatically increases your chances of passing the CCAT test. That is why at PrepTerminal we have created a CCAT test prep course to help you practice for this challenging cognitive test.
At PrepTerminal our team of experts in the CCAT test field have carefully crafted video-based and highly accessible material to ensure you achieve your maximum test potential. Our CCAT test prep course is unique as we offer a range of CCAT sample tests and video tutorials that will help you understand the nature of the questions you're likely to encounter on this test.
We are here to show you that anyone can excel in CCAT's testing, not just individuals with top qualifications. Learn how to identify and use your key areas of strength to help you pass the CCAT test.
6 Features of PrepTerminal's CCAT Test Prep Course
At PrepTermanal our resources are video-based and visual. We provide accessible and concrete information methods to help you maximize your CCAT score, and a vast array of practical tips and how-tos.
We have an extensive range of CCAT sample tests which you can use to help you better understand the nature of the questions you will be presented with, and get you into the rhythm of CCAT's questions.
One of the most challenging aspects of this test is the tight time limit. We will teach you how to manage your time well. At PrepTerminal we are here to help you remain calm under pressure so you can perform at your best.
Our comprehensive module based curriculum will help you achieve your best possible score so you can increase your chances of passing this tricky test. Once you register for our CCAT test prep course our resources are available for you to use online for the duration of your course with us.
Let us help you be one of the 20% who pass this challenging test, so you can land your dream job.
*Note:

CCAT, Criteria, and other trademarks are the property of their respective trademark holders. None of the trademark holders are affiliated with PrepTerminal or this website.