Hogan Development Survey (HDS) 2023: Free Practice Tests & Prep Course
Unlock Your Potential and Land Your Dream Career!
In the hustle and bustle of today's workplace, even the best of us exhibit certain behavioral tendencies under pressure or stress that might not align with our usual self. Often referred to as our "dark-side" traits, these characteristics can unintentionally shape our professional journey, influencing our relationships, decisions, and growth opportunities.
The Hogan Development Survey, renowned for its precision and depth, is tailored to unravel these very traits, offering insights into how they may potentially intersect with your professional roles. But fear not, for this is not just an assessment—it is an enlightening exploration of oneself.
In our HDS prep course, where we dive into its foundational principles, design, and the science behind it. Our course ensures you know what is in the actual HDS test. From understanding the core components of the test to getting familiar with sample questions, we have mapped it all out for you
What is the HDS (Hogan Development Survey)?
The HDS test is designed to spotlight the potential derailers, given by Hogan Assessments. Its primary aim is to uncover behavioral aspects that might easily be overlooked during traditional interviews. By pinpointing these potential pitfalls, organizations can offer tailored development strategies and coaching, ensuring that these traits don't become obstacles in one's career journey.
What is the "Dark Side" of Personality?
When we say "Dark side" traits, we mean the aspects of personality that may become problematic or counterproductive under certain conditions.
This is not about being evil or anything – it is about those not-so-great traits we all have that might show up when we are stressed or not paying attention to how we act. So, while we all have our good sides and strengths, sometimes these can go overboard.
Think about times you might have been too confident, made hasty decisions or did not want to admit a mistake. These traits usually stay in the background during our regular day-to-day, but when things get tough or unusual, they can pop up and mess with our relationships both at home and at the workplace.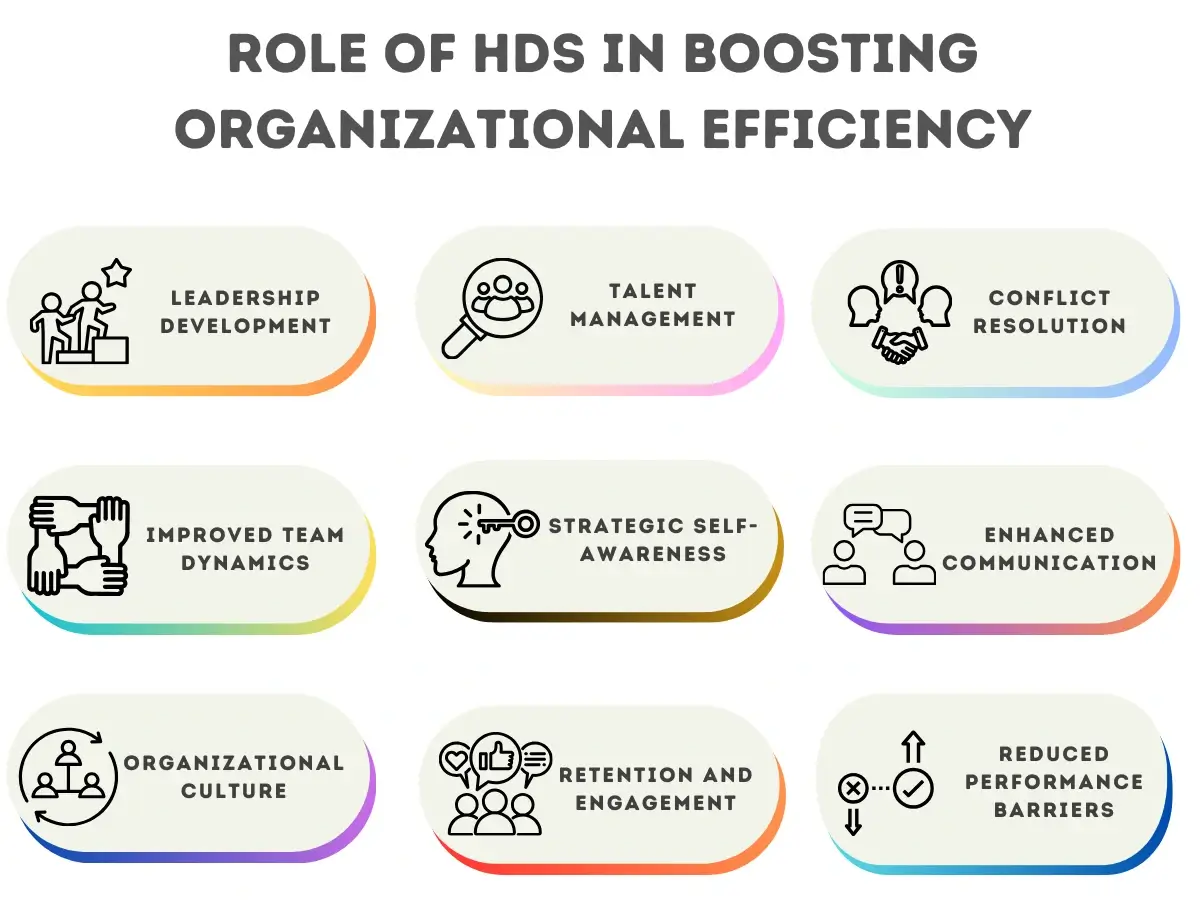 There are 11 main domains assessed by the HDS. Here is a brief of the domains:
| Domains | What it Assesses? | Traits |
| --- | --- | --- |
| Excitable | The amount of enthusiasm and passion an employee shows at work; and their tendency to get frustrated and give up | Moody, Easily Frustrated, Hard to Please, and Emotionally Volatile |
| Skeptical | How trusting a person is and whether they can identify and deal with deceptiveness in others. | Distrustful, Cynical, Sensitive to Criticism, and Focused on the Negative |
| Cautious | How risk averse a person is, their attitude to failing and if they can accept criticism. | Hesitant, Resistant to Change, Risk-Averse, and Deliberative in Decision-Making. |
| Reserved | Whether a person take the feelings of others into account, how sociable they are and their tendency to act with indifference. | Detached, unresponsive to others' emotions, and not expressive. |
| Leisurely | Whether a person is likely to act as if they are working as part of a team when in fact following a personal agenda and disregarding other people's ideas or assuming that they know best. | Appears cooperative, yet can be internally irritable, obstinate, and uncooperative. |
| Bold | How confident and fearless a person is. | Extremely Self-Confident, Conceited, with an Overestimated Sense of Self-Importance. |
| Mischievous | This looks for impulsive and risky behaviors | Charming, Risk-Taking, Limit-Testing and Excitement-Seeking |
| Colorful | Whether a person enjoys being the center of attention and how extroverted they are | Dramatic, Attention-Seeking, Interruptive, and Poor Listening Skills |
| Imaginative | This part of the test assesses creativity and creative thinking. | Innovative, yet may Think and Act in Quirky or Unconventional Ways. |
| Diligent | How hardworking and detail-focused a person is | Thorough, Precise, Demanding, and Inclined to Micromanage. |
| Dutiful | How compliant and eager to please a person is | Keen to meet others' expectations and Hesitant to act autonomously or against the majority. |
The Hogan Development Survey, often referred to as HDS, is kind of like a self-assessment. It has around 168-170 questions, and most people can finish it in about 15-20 minutes. The gist of it is that it's trying to get a good read on your personality in the workplace.
HDS uses a layered approach, it taps into 11 major domains of personality, but it also breaks down to an even granular level by breaking those big categories into 33 more specific subscales. The responses are usually on a Likert-type scale, where you need to rate the statements on a scale from "Strongly Disagree" to "Strongly Agree."
Think of it as a personality deep dive. By the end of this quiz, you will get insights not just about your strengths, but also about areas where you might need a bit of polishing, and how you might stack up as a leader. They also hint at how likely you might be to exhibit certain challenging behaviors at work.
To get a complete understanding of someone's personality, it's common to use the Hogan Development Survey alongside the Hogan Personality Inventory. The Hogan Personality Assessment focuses on the positive aspects of personality traits. Sometimes, people also include the Motives, Values, Preferences Inventory, which examines a person's beliefs and what motivates them. All of these tests are provided by Hogan Assessments.
When these assessments are combined, organizations get a full picture of an individual's personality, considering both their strengths and any potential areas of concern. This deeper insight is incredibly valuable for businesses aiming to improve talent recruitment, enhance team dynamics, and develop effective leaders.
So, all in all, it's a solid tool to get to know yourself better, especially if you are curious about how you might come across in a professional setting.
Let's take some examples to understand the question-response format better.
Question:
I tend to snap at people when I am stressed.
Explanation:
Strongly Disagree: Individuals selecting this option demonstrate notable resilience and emotional stability, even under intense stress. Their behavior remains predictable and steady, and they rarely, if ever, redirect their stress toward others in the form of irritability or snapping.
Disagree: Individuals who opt for this response generally maintain their composure under stress. While there might be rare instances where they exhibit signs of frustration, these are exceptions rather than the rule.
Neither Agree nor Disagree: This response indicates a variable behavior under stress. Depending on the situation or the intensity of the stressor, these individuals might occasionally snap at others, but it's not a consistent reaction.
Agree: Those agreeing with the statement tend to show noticeable signs of irritability or frustration when stressed. While they might not always snap at others, there's a relatively high likelihood they would, especially under significant pressure.
Strongly Agree: Individuals strongly agreeing consistently struggle to manage their emotions under stress. Their reactions are often intense, making them more prone to snapping or having strong emotional outbursts towards others when stressed.
Question:
It's naive to trust people easily.
Explanation:
Strongly Disagree: Individuals selecting this are innately trusting. They believe in the goodness of people and are likely to give others the benefit of the doubt, often without hesitation.
Disagree: This response suggests a generally trusting nature, but with a hint of caution. While these individuals believe in trusting others, they also understand the importance of context and might occasionally be skeptical based on past experiences or specific situations.
Neither Agree nor Disagree: These individuals strike a balance, often weighing their past experiences and present context before deciding to trust. They neither lean towards blind trust nor constant skepticism.
Agree: Individuals who agree with this statement exhibit caution and reservations when it comes to trusting others. They believe that one should not trust easily and that skepticism is often warranted to avoid potential deceit or harm.
Strongly Agree: Highly skeptical in nature, these individuals consistently doubt others' intentions. They believe that it's naive to trust without significant proof or validation and may often expect deception or ulterior motives.
Question:
I tend to keep my true feelings to myself when asked to do something I disagree with.
Explanation:
Strongly Disagree: Highly transparent individuals select this option. They are forthright about their feelings and disagreements, finding it essential to express themselves genuinely, even if it might lead to conflict.
Disagree: These individuals are generally open about their feelings but might, in specific contexts or sensitive situations, choose to withhold their true feelings to maintain harmony or avoid confrontation.
Neither Agree nor Disagree: This response indicates a fluctuating approach. Depending on the situation, relationship dynamics, or potential outcomes, these individuals might openly express their disagreements or choose to internalize them.
Agree: Individuals selecting "Agree" often prioritize harmony and smooth interactions over direct confrontation. Even if they hold strong disagreements, they frequently choose to keep those feelings internalized to avoid potential conflicts or disruptions.
Strongly Agree: This response indicates a consistent tendency to internalize feelings, especially disagreements. These individuals almost always prioritize external peace and are highly reluctant to voice dissent, even if it means suppressing their true feelings.
Ready to Transform Your Future?
Join the ranks of successful dispatchers who've prepared with us.
🔴 Enroll Now to embark on your journey to success!
Take a look at our HDS Course Modules
Here is What You Can Expect in Our Prep Course
Unveil Your Potential with These Exciting Features:
📚 Comprehensive Prep Guide: Packed with insider tips and strategies.
🔍 In-Depth Domain Insights: Explore hidden connections between motives, values, and preferences.
📊 Score Clarity: Understand your results with a detailed explanation of what your scores really mean.
💯 150+ Practice Questions: An extensive library of practice questions.
🌟 Realistic Trait-Related Questions: Questions that mirror the real HDS
Ready to unlock your potential and align with your ideal job? Enroll now!
*Note:

Hogan and other trademarks are the property of their respective trademark holders. None of the trademark holders are affiliated with PrepTerminal or this website.