Ace the 2023 Predictive Index Test with Comprehensive Practice Tests
Ace the Predictive Index Exam With Easy-To-Follow Modules & Mock Tests
About Our PI Practice Test
On this page, we have created a PLI test sample to help you understand your current performance level. Our sample test is expertly designed to assist you as follows:
Help you understand how well you are performing in relation to each question type and establish your test benchmark.
Our PI assessment practice test is time, so you can see just how well you understand the professional learning indicator test questions and deal with the pressure of the time restrictions of the actual test.
We have created a test that features 1 or 2 examples of all the question types, so you get a sneak preview of what will be included in the actual test.
Allow you to see where your strengths and weaknesses lie in relation to the PI assessment test material.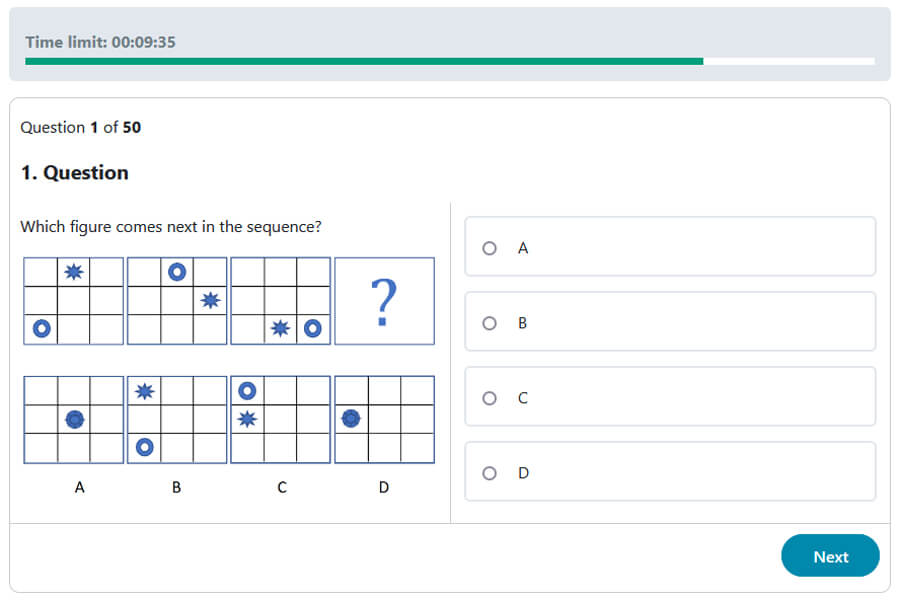 Why You Need to Take a PI Practice Test Before the Real Exam
The Predictive Index is a challenging hurdle for many prospective employees worldwide.  Candidates are challenged with a high number of questions to be answered in a very short amount of time. You'll be required to complete 50 questions in just 12 minutes. 
The Predictive Index Cognitive Assessment consists of three main parts:
Abstract Reasoning
Numerical Reasoning
Verbal Reasoning
Each section is weighted equally in the test, each breaking down into three further sub-categories. You must be well-prepared if you want a chance at coming out ahead of the competition and achieving a good score – for the very best all-round prep you need Prepterminal's Rapid Predictive Index Prep Course, our modular study resource packed with written/video guides and extensive practice material to teach you all the quick tricks and strategies to speed through the questions and give you the competitive edge on exam day.
Predictive Index Mastery Course
The Design of Our PLI Practice Test
Our free PLI practice test is expertly formulated to accurately simulate real Predictive Index tests so that you can get an insight into what to expect when you take the real thing. Our tests are designed by psychometric professionals who review the PLI regularly and interview former test-takers so that they can keep the information in the course up-to-date.
The PLI test is designed to assess your ability to work quickly and accurately under pressure; it is NOT designed to assess advanced numerical reasoning. Our free PLI practice test is representative of the questions you will encounter on official Predictive Index tests.
Our PLI sample test consists of 50 multiple-choice questions to be answered in 12 minutes. Here you will have the option to simulate a real PI LI test with realistic results. Calculators are not permitted on the actual PI LI test. You can only use rough paper to work out your answers. So it's best not to use a calculator when completing our PLI practice test.
After you have completed each test, click Finish Quiz. Next, in order to see the explanations for every question, click View Questions. In order to take the test again, click Restart Quiz, or return to the home page, and select Click to continue.
How to Optimize Your Score on the PI Test
Studying for a test can often be overwhelming. And, it can be particularly difficult to get started, especially if you have been out of school for a while and you are feeling somewhat apprehensive about the whole process.
That's why we at PrepTerminal, have created three test tips that will provide you with a very simple set of steps that will help you begin your PLI test study journey.
Step #1. Take our PLI Test Sample (Diagnostic Test)
We have developed a practice (diagnostic) test to measure your starting test level. Our PLI test sample will give you the opportunity to:
Find your areas of strength and weakness
Exercise on questions you are finding difficult
Monitor your advancement and measure your progress
Step #2. Learn PLI Test Practical Strategies and Cunning Problem-solving Methodologies
You should approach your PLI test in a very specific manner. The creators of the PLI Cognitive Assessment developed this exam with specific goals in mind. Thus, they designed the test in a particular way and often included traps to trip up unprepared test-takers.
We at PrepTerminal, understand how the PLI assessment was created and know just how to approach this exam. We will teach you the practical strategies and cunning problem-solving techniques you need to avoid any PLI test traps. These strategies and techniques will also allow you to optimize your test score and improve your test-taking time.
For a limited time, we are giving you the chance to try the first two modules of our PLI test prep course for FREE. We are so confident that you will love our system that we would like you to experience our course material free of charge.
Step #3. Complete Sample Practice Tests that Mimic the Real PLI exam with detailed answer explanations
Once you have learned the specific PLI test-taking tips and strategies and have familiarized yourself with the format of the PLI assessment, it is time to put your knowledge into action. Then, you can apply all you know to our full-length mock practice tests. The more practice tests you complete, the more confident you will become, and the more your score will improve.
*Note:

The Predictive Index and other trademarks are the property of their respective trademark holders. None of the trademark holders are affiliated with PrepTerminal or this website.