What Is The PI Cognitive Assessment Test?
Last updated 08/2020
The PI Cognitive Assessment (known as the Predictive Index Learning Indicator (PI-LI)) is a cognitive ability assessment test. Meaning it measures your ability to adapt, learn and understand new concepts within the workplace, in a limited time. It is a popular psychometric assessment tool used by thousands of corporations all over the world, generally, as a key part of their hiring process.
Prospective employees use the test to identify skills which they may not see from reading a resume or holding an interview. The PI Cognitive Assessment test gives organizations insight into your cognitive ability, or your capacity to learn and adapt in the workplace. That's why it is so essential to be well prepared and ace this test!
---
PLI Test vs PI-LI Test
If you have been asked to take a PI Cognitive Assessment test you have come to the right place! But, wait a minute, you may have been asked to take the PLI test. Don't worry, the Professional Learning Indicator (or PLI test) is the same thing as the PI-LI. So, if you need to do a PI Cognitive Assessment, PLI or PI-LI test, PrepTerminal's preparatory PI course is the perfect fit for you.
Let's see what this test is all about and why it is so important to come to the test well prepared.
---
Why Is The PI Cognitive Assessment Test So Tricky?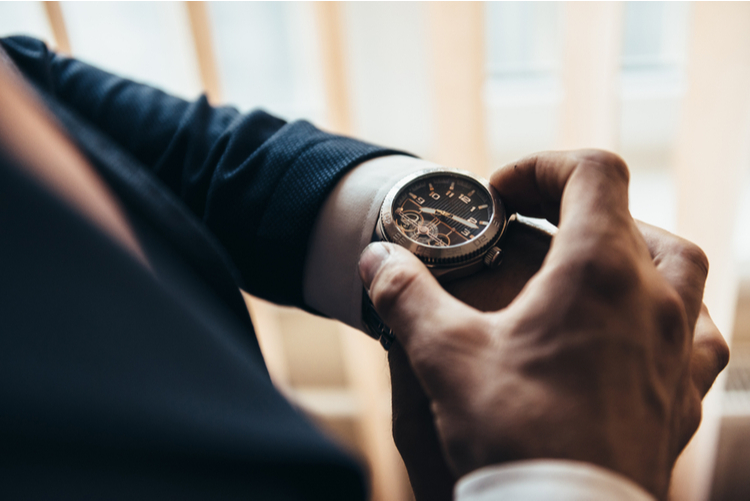 Tick, tock, tick, tock…
Tick, tock, tick, tock… We all know that feeling of being pressed for time. It's often uncomfortable and can cause us to make silly mistakes. In the PI Cognitive Assessment time is a big factor. You are only given 12 minutes to complete a 50 multiple choice question test, which means that you will need to finish 4-5 questions per minute. This is why the PI Cognitive Assessment test is more difficult than it may first appear.
Basically, the PI Cognitive Assessment test is measuring your general intelligence under pressure and you will need to think critically and quickly. Every point counts! We at PrepTerminal believe that nobody should be turned away from their dream job and that is why we have prepared a course to help you master the PI Cognitive Assessment Test.
---
Can I Fail the PI Cognitive Assessment Test?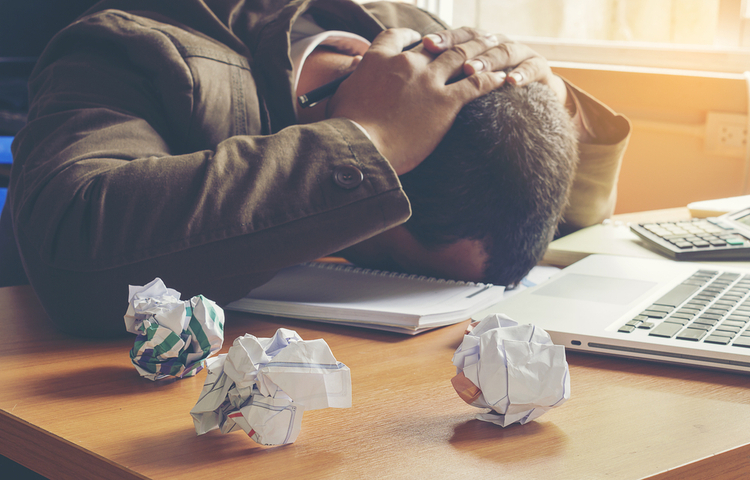 You can fail the PLI test, but the standard varies depending on the employer. There is no official passing standard on the test. Each company will create a minimum score for the open job position, and the hiring managers will choose the resumes according to this score. In other words, the hiring company will decide the score you need to pass to the next stage of the interview process.
At this point, you may be wondering….How is my PI test score calculated?
Time for a little maths…
Once the PI test is completed, a score is given based on the number of items answered correctly, with no penalty for incorrect answers. The average raw score on the PI Cognitive Assessment ranges from 17-23, but it is assumed that the population average on the PI Cognitive Assessment test is 20 correct answers. Once the raw score is taken, a scale score is calculated between 100-450, with the average score being 250 which is equivalent to a raw score of ~20/50.
Not crazy about math…
Basically what you need to know is that the average raw score is 20 out of 50. This seems pretty low, right? That's largely because of the test's harsh time limit. With only 12 minutes to answer 50 problems, you won't have more than 15 seconds to spend on any individual question. You won't have a second to spare. That's why it is so important that you make sure you practice ahead of time and take sample tests.
Learn strategies so you can perform to your best within this limited timeframe with PrepTermainal's PI Cognitive Assessment preparation course.
---
What Score Should You Aim For?
Predictive Index has produced a table of scores you should aim for based on the role you want. While these are not a guarantee of employment upon achieving the score, they go a long way towards improving your likelihood of success in a certain industry.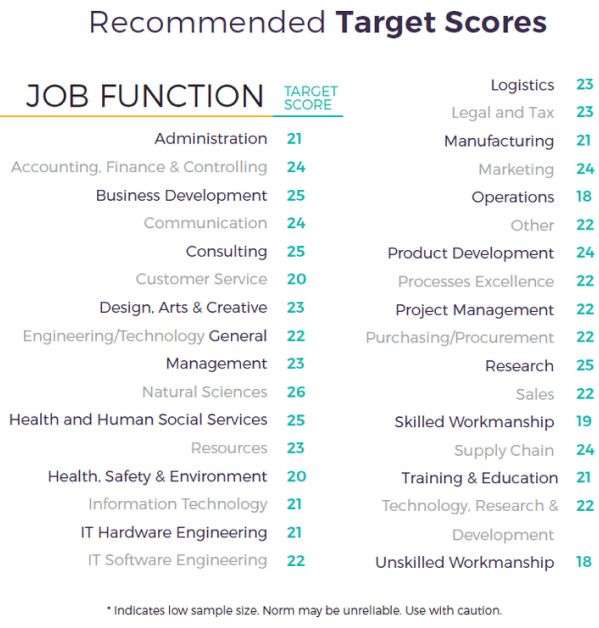 The given scores serve as an estimate of what you need to achieve to be considered for a job role. It is recommended by Predictive Index that you add 2 to your target score to improve competitiveness as a candidate being 2 points above the target score indicates a "100% cognitive fit" for the role.
---
3 Tips to Successfully Pass the PI Cognitive Assessment Test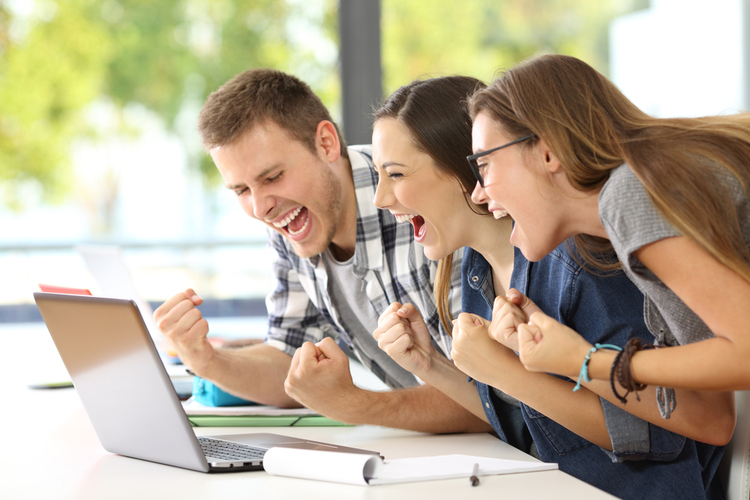 1. When it comes to the PI Cognitive Assessment test, you've only got one shot, so give it all you've got.
The PI test is administered by a wide variety of employers to screen out unsuitable candidates. Harsh time restrictions and a large number of question types make what might look like a simple intelligence test a significant challenge. If you've applied for a job position and have been asked to take the Predictive Index test, there won't be any do-overs. You need to get this right, and you need to get it right the first time
2. The best test-taking techniques come from experts in the field.
Being asked to take a test you've never taken can be daunting. Taking a test you've not performed so well on in the past can also be scary. At PrepTerminal our expert in-house psychometric experts understand this. While many test-takers are tripped up on numerous time traps and unfamiliar question types, PrepTerminal's course helps you get to the right answer in the most time-efficient way.
3. Take a preparatory PI course before you sit the real test.
What sets PrepTerminal's PI preparatory course apart from the others is our comprehensive approach to teaching the concepts. We also stand out because we offer a written and video guide for all 9 question types on the PI test! We provide practice test samples with tips, presented in an easy-to-understand way. PerpTerminal's PI course is the essential resource for maximizing your chance at test success and landing your dream career.
Come prepared and ace your PI Cognitive Assessment test with PrepTermainal's PI Preparation Course.
---
Learn to pass the School Safety Agent Exam
Last updated 08/2020
Make sure that you are well prepared for this challenging, but rewarding career as a School Safety Agent, by taking a look at PrepTerminal's top tips and course preparation to get you started!
Our School Safety Agent Exam prep course is the ideal resource to prepare for this challenging test. Read on to learn more about the exam!