Hogan Personality Inventory
Last updated 10/2020
Has the Hogan Personality Inventory Test caught your attention? Perhaps you have been asked to sit the test as part of your recruitment process or maybe you simply want to see how this test can help your career? Either way, you have come to the right place. On this page, we will cover the key aspects of the Hogan Personality Inventory Test (HPI), and endeavor to address your questions on this topic. We will also explain how best to prepare for the HPI assessment.
---
---
What Is The Hogan Personality Inventory?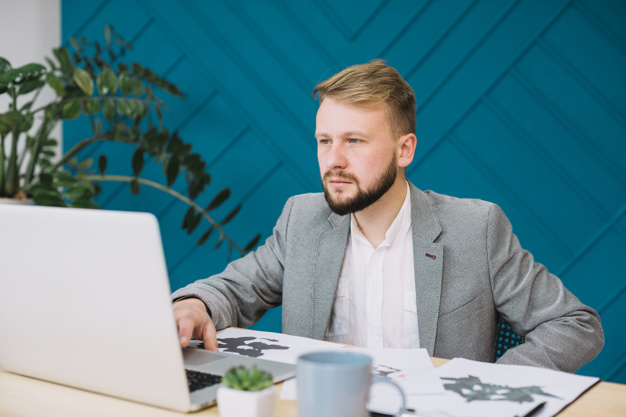 The Hogan Personality Inventory (HPI) is an assessment used to measure normal personality, with the aim of predicting job performance. It is intended to measure what Hogan refers to as the bright side of personality. The bright side of personality are the qualities that define you when you are performing at your best. These traits will help you succeed in your career and ultimately assist you in climbing the ladder of job success.
Employers use the HPI to help them strengthen their employee selection, succession planning, leadership development, and talent management process. The HPI was the initial inventory, used to assess normal personality traits, based on the Five-Factor Model and created particularly for the business sector.
The Five-Factor Model was developed by Robert McCrae and Paul Costa. It is maintained that this classification system can be used to qualify the character of an individual and to measure the variations in human personality in relation to five general categories. These five categories are openness, conscientiousness, extraversion, agreeableness, and neuroticism. They are typically abbreviated as O.C.E.A.N.
Key features of the HPI at a glance:
Created to predict occupational success
Founded on the Five-Factor Model
Helpful reports available for employee selection or development
Created exclusively on working adults
Normed on more than 150,000 working adults from around the world
Validated on more than 200 occupations including all major industries
Instantaneous scoring and reporting output
Online administration
Test items and reports are available in multiple languages
Our team of psychometric test experts at PrepTerminal have developed a preparatory course specifically designed to help you succeed in your HPI assessment. Our comprehensive course will give you the know-how you need to do well in this assessment so you can show your hiring manager that you have the character traits they are looking for. Prepare for your test in advance, with us at PrepTerminal.
---
What Does the Hogan Personality Inventory Assess?
The HPI exam assesses your day-to-day personality, also known as the bright side. It evaluates how you interact with others. Hogan professionals draw an overt distinction between the bright and dark sides of an individual's personality. The bright side is used in connection with the qualities given to someone when they are in control. The bright side of an individual's personality is apparent when the individual is successful and content.
Comparatively, the dark side of an individual's personality may raise its head when they are under great pressure or stress, either professionally or personally. As everyone has both a bright and dark side to their nature, Hogan tests both these aspects of personality. The HPI is typically used to test for an employee's potential for development.
---
Hogan Personality Inventory Traits
Adjustment – self-esteem, confidence, and composure when under pressure
High scorers- resilient, confident ,and optimistic
Low scores – irritable, negative and tense
Ambition – competitiveness, initiative, and aspirations for leadership roles
High scorers – competitive and keen to advance
Low scorers – unassertive and less keen into advance
Sociability – gregarious, extraversion, and the desire for social interaction
High scorers – colorful, outgoing, impulsive and don't like to work alone
Low scorers – quiet, reserved, like to work alone
Interpersonal Sensitivity – perceptiveness, tact, and capacity to maintain relationships
High scorers – warm, friendly, and popular
Low scorers – frank, direct, and independent
Prudence – responsibility, self-discipline, and conscientiousness
High scorers – dependable, organized, and thorough
Low scorers – flexible, impulsive, and creative
Inquisitive – curiosity, imagination, and creative potential
High scorers – visionary, quick-witted, and pay less attention to details
Low scorers – focused, practical, and able to concentrate for extended periods
Learning Approach – up-to-date on business and technical matters, and achievement-oriented
High scorers- enjoy studying and reading
Low scorers – less interested in formal education than in hands-on education
---
What Are Employers Looking for in the Hogan Personality Inventory?
By reviewing the above details, your potential employer can learn a lot about you and how you manage your day to day tasks.
They can learn about aspects of work like service orientation, reliability, sales potential, managerial potential, service orientation, and clerical potential.
This allows employers to make the right decision when choosing between candidates and put them in roles that suit them and their personalities. It also lets employers know if you will fit into the work culture, what your attitude is like, or if you'd be a better fit elsewhere.
This may also help them decide on which roles you are best suited to within the organization. In essence, this means maybe you wouldn't do very well on their sales team, but you'd be excellent in their post-sales management team and customer service.
In short, there is no ideal score or an ideal personality.
However, do be warned that companies have a 'set profile' and want employees who are aligned to their goals and values, fit into the organization and thrive in their roles.
As a result, nearly no two companies have the same exact requirements when it comes to a candidate's Hogan Personality Inventory results, This looks different between companies, so it's important to be authentic.
Employers Want to Learn:
How you will fit into the workplace culture.
Which roles you would be best suited to filling.
Whether or not you will fit in with current employees for a harmonious workplace environment.
How you can serve the company and which future positions you might be able to fill, based on managerial skills, leadership traits and work ethic.
What sets you apart and makes you a great fit for the company.
---
How To Prepare For Hogan Personality Inventory
Here are some top tips to help you prepare for the Hogan Personality Inventory assessment.
Top Tip #1. Be true to yourself
The purpose of the HPI test is to assess whether your personality fits the specific job role your potential employer is advertising for. If you are someone who likes working independently and quietly addressing work problems it won't do anyone any good if you tick the box that says you are an extrovert who enjoys mingling with others and loves the thought of selling items to people. After all you want to do well in your job role.
Top Tip #2. Stay away from extreme answers
Employers often seek employees with balanced personalities, so avoid choosing answers which are overtly 'extreme'. Choosing "highly agree" or "highly disagree" in all responses may make you appear inflexible.
Top Tip #3. Approach questions with a professional and ethical mindset
Acting in a professional manner and being ethical are musts for most jobs. Try to stay clear of answers which could depict you as an unprofessional or unethical individual. Despite what some people may think there are incorrect answers in personality tests, and selecting an answer that is unprofessional or unethical is probably going to be wrong.
Top Tip #4. Read the instructions well
Not all personality tests are alike so make sure you read the instructions in detail before you begin answering the questions. Pay particular attention to things like how much time you have to complete the test. Some personality tests are not timed, but you shouldn't spend too long or complete it too quickly as this could unsettle the recruiter.
Top Tip #5. Think about the job role
Consider the attributes that are likely to be advantageous in the job role you are applying for. If you are applying for a sales role then the capacity to form good relationships is going to be a desirable trait. However, if you are applying to be a lawyer, attention to detail may well be a good quality. Don't try to cheat the test by choosing what you think is the right answer but rather be conscious of the personality characteristics that are going to be sought after by your potential employer.
Top Tip #6. Don't try to cheat the test
Personality tests are created to discover if a candidate is trying to cheat the test. One way the test does this is by posing similar questions in marginally different ways. Another way they achieve this is by isolating candidates who always choose the 'perfect' answer. In other words, the answer the candidate assumes the test assessor wants to hear. Attempting to cheat on this test probably won't get you very far.
Top Tip #7. Practice
It is only through practice that you will build up your test-taking skills and learn what to expect from a personality test. By practicing on mock HPI tests you can develop gain familiarity with the test format and question types and thus build up your confidence and test-taking skills.
At PrepTerminal our team of Hogan assessment experts have created a comprehensive HPI preparatory course so you can give yourself the best chance of achieving HPI test success. Don't risk leaving your test-results up to chance. Start preparing with PrepTerminal and take control of your job future.
---
Hogan Personality Inventory (HPI) Sample Questions
1. Statement: I make friends easily
Responses:
True
Uncertain
False
Correct Answer: A
Explanation:
While this may seem nonsensical, the trait being measured here is that of an applicant's 'sociability' according to the Hogan Personality Inventory, and if you want to highlight your ability to socialize with customers or coworkers, you must answer positively to this statement. However, if the statement is an 'extreme' like 'I am considered to be everyone's best friend back at school', then it will be understandable to pick B or C as this will show you as someone that's being honest and not just an applicant that's forging their personality profile to make themselves look better.
2. Statement: There is always room for improvement in everyone
Responses:
True
Uncertain
False
Correct Answer: A
Explanation:
This statement aims to measure your trait of 'ambition', if you think that being ambitious is important to the job position that you are applying for, then you must answer positively. In general, having a good level of ambitiousness is seen as a plus in most industries/companies.
3. Statement: I am the type of employee that finishes their work as soon as possible
Responses:
True
Uncertain
False
Correct Answer: Either A or C
Explanation:
The 'correct' answer will depend on the nature of the industry that you are entering. If you are applying in a position where getting everything done as fast as possible is needed, then choosing A will be the best choice. However, if you are entering an industry where you have to be scrutinous as possible in your work and make sure that NOTHING wrong can happen or that no mistakes should go through, then you should answer C as this will prove that you are someone that takes their time and is meticulous with their work so that the quality of their products or services is not questioned.
---
Prepare with Prepterminal's Hogan Personality Inventory Course
If you have never taken a personality test before, you may get a bit of a shock when you see this type of assessment for the first time. You will definitely want to make sure you are familiar with the format and sorts of questions that appear on a personality test before you are faced with the real test. Don't make the assumption that this will be a walk in the park. This is no simple questionnaire and despite what some people may think, there are correct and incorrect answers on this test.
By studying the characteristics assessed by the exam and revising on practice questions in advance, you will be able to present a professional and genuine image of yourself to your prospective employer. At PrepTerminal we have carefully designed a preparatory HPI assessment course so you have all the tools you need to thoroughly prepare, at your fingertips. Our module-based course features video and text, and the information covered is displayed in a straight-forward manner so you can follow along with little effort.
While the Hogan Personality Inventory test may not be the only factor determining whether or not you get the job, it probably will play a significant role. Therefore, it is advisable not to take this test easily. Our Hogan Personality Inventory prep course includes mock HPI tests and quizzes so you can maximize your chance of HPI test success. As, when all is said and done, the more prepared you are the more confident you are likely to feel when you head into the assessment center on the day of your test.
*Note: Our website is not associated or affiliated in any way with the Hogan Assessment Systems, Inc.
Hogan Personality Inventory
Last updated 10/2020
Has the Hogan Personality Inventory Test caught your attention? Perhaps you have been asked to sit the test as part of your recruitment process or maybe you simply want to see how this test can help your career? Either way, you have come to the right place. On this page, we will cover the key aspects of the Hogan Personality Inventory Test (HPI), and endeavor to address your questions on this topic. We will also explain how best to prepare for the HPI assessment.