Crossover CCAT Course: Learn The Shortcuts To Pass With Ease
The Crossover CCAT is a rigorous examination designed to test your cognitive abilities without the assistance of a calculator. Successfully passing the test can mean a lucrative career with Crossover; failing the exam can mean a painful embarrassment. If you want the tips and tricks to help you ace this assessment, you'll need Prepterminal's CCAT prep course.
Our course will help you: 
Understand the concepts covered in the CCAT
Get hands-on practice with actual test questions
Learn the shortcuts you need to get a high score
Have the confidence to take the test without unnecessary stress
First, let's look at what the Crossover aptitude test is, and the purpose of the assessment.
What Is The Crossover Aptitude Test?
The criteria cognitive aptitude test, or CCAT, is an assessment designed by Crossover to determine the capabilities of potential candidates. No matter what type of job the applicant is trying to get, they will have to complete the test as part of Crossover's technical screening. The test is licensed from Criteria Corp, which specializes in pre-employment assessments. 
The test itself consists of 50 questions which participants are given 15 minutes to complete. The CCAT is only available in English. You can not use a calculator and the test is broken into two separate rounds.
How to Prepare For The Crossover Test
Without the assistance of a calculator, only 3 minutes per question, and four distinct and difficult question categories, passing the test can be difficult. To proceed to the next step in the hiring process for Crossover, you need to get at least 35 out of the 50 CCAT questions correct. To achieve that 85% score, you need to make sure you are completely prepared before the examination begins.
The best strategy to prepare for the Crossover aptitude test is to practice with real test questions and read comprehensive explanations. The easiest way to do so is with our comprehensive Crossover prep course.
Crossover CCAT Exam Prep: Practice Test with Answers
Our exam prep features a series of models designed to help you understand the fourteen types of question on the CCAT, including:
What is on the Crossover Aptitude Test?
The test consists of 50 questions lasting 15 minutes and is an intelligence and aptitude test broken into three sections, including logic and math, verbal ability, and spatial reasoning.
Especially for those who have never experienced the test before, this test can be incredibly challenging. Keep in mind you have roughly 30 seconds to answer each question to complete it in the allotted time frame provided.
Your test scores are broken into two separate sections. The first is a raw score calculated from the number of questions you answered correctly. Your percentile score uses your raw score to compare you to other candidates. The average CCAT score is 24 out of 50.
Each question category covers different subject matter and concepts, and is meant to test various abilities beneficial to a career with Crossover.
Spatial reasoning questions on the Crossover test are designed to test your abstract reasoning. These questions will come in two forms:
Conforming Figure: You will be presented with four figures and asked to find what feature they share with two subsequent figures.
Outlying Figure: These are the opposite of conforming figure questions, where you must find the figures that do not share a common feature.
Let's look at an example:
Question: The top two unlabeled figures share a feature. Of the answer figures, which does not share this same feature?
Answer: A
Explanation: In the top two figures, the line segment aligns with one side of the shape close to the boundary. One shape does not contain this feature, as the line segment is in the middle with no alignment. That shape is A.
These questions test a candidate's capability for three-dimensional visualization.
Let's look at an example:
Question: After folding these squares into a closed cube, which shaded corner would touch corner "X"?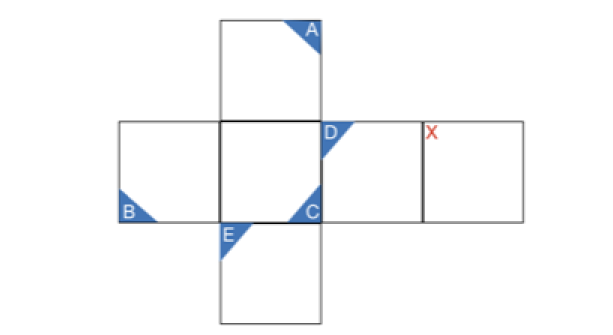 Answer: a
Explanation:
First, find the anchor face, or the side all other sides will rise to form the cube. These are generally in the middle, and in this case, its side C. Then, visualize the other faces rising to form the cube. Though the test won't provide this, here is what this particular visualization would look like.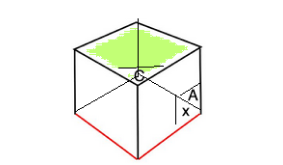 Once visualized, it's easy to see that the side that will touch corner x is A.
In this section of the Crossover CCAT, you will be presented with a series of graphics resembling clock faces. One of these faces will be covered with a question mark. You must identify the pattern present in the images, and determine the positions of the hands on the question mark clock.
Let's look at an example:
Question: Replace the question mark in the boxed series.

Answer: d
Explanation:
First, identify the pattern presented by the images. Looking at the first two images, we can see the gray hand moves one space clockwise and the black hand moves one space counterclockwise.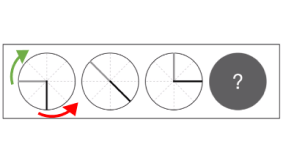 Once you have the pattern, you can apply it to the third image, moving the gray hand forward and the black hand backward. This means the correct choice is D.
For these questions the candidate will be presented with a series of dates, and asked to answer a question concerning said dates. 
Let's look at an example:
Question: Which of the following is the earliest date?
Answer: c
Explanation:
While it may seem easy, speed is the key here. You need to find a way to determine the date quickly. For this question, first eliminate the choices by their century. Those that take place in the 1900's can be removed easily. Then, look at the months and determine which is the earliest in the year. The only time you will look at the actual day is if there are two dates in the same month (in this case, there isn't). Using this process we can see the correct answer is C.
Verbal reasoning questions on the Crossover aptitude test fall into six categories: 
Similar and Contradictory Words
Antonyms
Synonyms
Rearranging Sentences
Proverbs 
"Finding the Exception" 
Let's look at an example of the first category:
Question: The words HABITUATE and ACCUSTOM have______meanings.
Answer: A
Explanation:
You have to identify how the two words, habituate and accustom, are related. First, look at the definition for both. "Habituate" means to make a habit of something, and "accustom" means to get used to something. Therefore they are similar, and the answer is A.
These questions are designed to assess your reading level. You will be given a paragraph of text and asked to answer questions based on the information within that text.
Let's look at an example:
"A lady walked into a building, straight to the front desk. She was applying for a secretarial position as her first job. The lady was then asked to proceed into a room for her interview and was asked various questions, the last being if she would be willing to work for 6 hours a day, 6 days a week."
Question: Should the lady choose to accept the job, how many hours would she work in a week?
Answer: A
Explanation:
From the paragraph, we know the lady works six hours per day and six hours per week. 6x6 is 36, so the correct answer is A.
In this part of the cognitive aptitude test, Crossover will give you a list of words. You must determine how many duplications occur within that list.
Let's look at an example:
Jaime Four              Jaime Fuor
Sam C.                       Sam C .
Danielle R.              Daniele R.
Adam and Jill        Adam and Jill
email Sarah            email Sarah
Question: How many of the five pairs of items listed below are perfect duplicates?
Answer: B
Explanation:
Looking at the list, we can see that there are various misspellings and grammatical errors. The last two names on the list do not include these mistakes, and appear to be perfectly identical. This means the correct answer is B.
One of the more difficult CCAT sections, these questions present you with a series of numbers governed by a central pattern. You must identify that pattern and determine the subsequent number in the series. There are two series types: Linear and Geometric.
Let's look at an example of a linear question: 
-1 ,  5 , 11  , 17 , 23 , ?
Question: What is the next number in the series?
Answer: B
Explanation:
Each number in the series increases by 6. Therefore the next number is 29, and the correct answer is B.
This section of the Crossover aptitude test will assess how familiar you are with basic knowledge and everyday information. Some of these questions can be difficult, others incredibly simple.
Let's look at an example of a simple question:
Question: September is the ? month of the year.
Answer: D
Explanation:
This requires previous knowledge of the sequence of months. In this case, September is the ninth month, so the answer is D.
For the analogies questions you will be given a set of words, then another set missing a word. You must determine what analogy connects the first words and apply it to the second set. 
Let's look at an example:
Question: SUN is to MORNING as __?__ is to EVENING.
Answer: B
Explanation:
In this case, the answer isn't too complicated. The relation between "Sun" and "Morning" is that we associate the sun with the morning, because that is when it rises. So what do we associate with the evening? The moon, so the correct answer is B.
In this section of the Crossover cognitive aptitude test, you will be given several pieces of information. You must assess the information, and answer questions based on your assessment.
Let's look at an example:
Most white lions will be captured.
Gideon is a white lion.
Gideon will be captured.
Question: If the first two statements are true, is the final statement true?
Answer: C
Explanation:
Determining the certainty of these statements is a good first step. Notice the word "most" is used here. This means the statement is not certain. While we can be sure Gideon is a white lion, we can't say whether or not he will definitely be captured. Therefore, the answer is C. 
In the percentages section of the Crossover CCAT test you will be given graphics or data sets. You'll then be asked to determine a percentage based on the provided information.
Let's look at an example:
Question: In this diagram of 100 little squares, what percentage of the squares are black?
Answer: D
Explanation:
Because we know there are 100 total squares, all we have to do is count the number of black squares. The total number is 21, therefore the correct answer is 21%.
In this section you will be asked to determine averages from a provided set of data. 
Let's look at an example:
A taxi driver drove 30 miles on Monday, 50 miles on Tuesday, 60 miles on Wednesday, 70 miles on Thursday and 90 miles on Friday.
Question: What was the average number of miles he drove per day?
Answer: A
Explanation:
One way to complete this problem is by adding all the numbers and dividing by the total. In this case, all the miles add up to 300. The taxi driver works five a week, so we calculate 300÷5. This gives us 60 miles, so the answer is A.
The numerical reasoning section will test your ability to deal with various mathematical problems and concepts. These questions will fall into several categories, including:
Age Calculation Problems
One-Variable Equation Problems
Profit-Per-Unit Questions
Rate and ratio

Distributive Property
2-Variable Equation Questions
Division of Profits using Proportion
Let's look at an example:
Dave is 15 years old and his uncle Rob is three times as old.
Question: When Dave will be 32 years old, his uncle Rob will be __?__
Answer: D
Explanation:
In this age calculation problem, the first step is to determine the difference in ages. If Dave is 15 years old and his Uncle Rob is 3 times his age, then Rob must be 45 years old. That means that Uncle Rob is 30 years older than Dave. Therefore, if Dave is 32, then Uncle Rob would be 62. The correct answer is D.
Interview and Hiring Process of Crossover
The Crossover hiring process is a five-step process known for being selective and competitive.
Step 1: Application Screening
As with all jobs you are applying for, the initial step in the hiring process is to have your application screened by a hiring team. One nice feature of Crossover is that since all the work they are hiring for is remote, the hiring process is handled entirely remotely. Your application will be closely checked. If Crossover approves your application, you will continue to the next step of the hiring process.
Step 2: Online Assessment
During the second step of the Crossover recruitment process, you will complete an online assessment. This testing can take anywhere from four to six hours and consists of five sections.
BFQ (Basic-Fit Questions)
The BFQ ensures that you are a proper fit for the position. This step is a primary screening, which does not need any technical preparation before starting this process.
CCAT (Criteria Cognitive Aptitude Test)
Crossover hiring professionals to examine a series of metrics, including norms, percentiles, and standardized scores from your CCAT. This analysis compares you to other qualified applicants worldwide, ensuring you are of the highest caliber for the position.
Next, you will take part in an English assessment to submit an audio recording lasting two minutes. The crossover will check your communication skills from this sample, ensuring you qualify for a remote position.
SMQ (Subject Matter Expert Questions)
The SMQ consists of multiple-choice questions specifically geared towards the industry with which your job position lands.
Within this part of the process, you might also have the option but are not required to complete a HackerRank test graded on a pass/fail basis. This assessment can take 40 minutes or take many hours to complete. HackerRank is a multiple choice question assessment and, depending on the role, may contain coding questions.
FRQ (Free-Response Questions)
FRQ is application-type scenario questions designed to take a look at your ability to problem-solve. The type of FRQ will depend on whether you match with a technical or non-technical position.
Tech Trial for Close Friends, or Tech Trial, tests technical roles through a coding project that you will complete in no more than three days. You receive feedback, including strengths and weaknesses, on your work within two to five days following completion.
Non-Technical (5Qs Evaluation)
Non-technical positions are tested through 5Q, or Five Questions, which are scenario-based, depending on the job you have been matched for.
Step 3: Interview Process
Given exemplary scoring on your Five-Part Online Assessment, a hiring manager will interview you over Skype. You will receive feedback from your interview within 24 hours.
The next step of the hiring process will include looking at your employment history and a background check. During this step, Crossover will check the speed of your computer and internet.
Lastly, the hiring manager will reach out to you directly if you have been selected for the position. You will discuss the terms, and upon agreement, they will hire you.
Step 6: Offer or Marketplace
Once your final interview has been completed, you receive a job offer or be placed into the Crossover Marketplace. This Crossover Marketplace allows hiring managers to carefully select from a pool of highly qualified individuals to which Crossover has already approved.
How do I get hired at Crossover?
A high score on your CCAT test can improve your chances of being hired at Crossover. If you get a passing score, which is generally over 35/50 correct answers, you will advance to step 3 of the recruitment process. If hired, you have the potential to get a full-time position.
How is the Crossover Test scored?
The Crossover test is scored by taking the number of correct answers and comparing them to the total number of questions on the exam. Your correct answer percentage will then be set side by side with a range of scores for the position you intend to get. If your percentage is high enough, you will be considered for the position.
What happens if I fail the test?
Failure of the CCAT will result in immediate disqualification from the recruitment process. You will have the chance to re-apply and take the test again in six months.
How to Get a Passing Score on the Crossover Aptitude Test
If you want to get a full-time position at Crossover, you need a good score on your CCAT. To make this happen, you need to be fully prepared for every question type contained within the Crossover test. Our prep course can not only prepare you, but show you the tips and tricks you'll need to get the highest score possible.
Prepterminal's specialists design the CCAT prep course to help you prepare for the 50-minute assessment. The CCAT course contains specific reasoning modules focusing on abstract, verbal, and numerical reasoning. These modules ensure you are well prepared for the different segments within the assessment. Gain access to module quizzes and full-length practice tests to become more familiar with the test format.
You deserve a fulfilling career at Crossover, and we want to help. Don't risk failure and disqualification; enroll in our prep course today!
*Note: CCAT and other trademarks are the property of their respective trademark holders. None of the trademark holders are affiliated with PrepTerminal or this website.