What is the Bennett Mechanical Comprehension Test?
The Bennett Mechanical Comprehension Test 2 (BMCT-II), also referred to as the Mechanical Reasoning Test and Mechanical Comprehension Test, is an aptitude test which measures an individual's ability to "perceive and understand the relationship of physical forces and mechanical elements in practical situations", developed by Pearson Assessments. It is extremely popular with a range of employers and schools as a metric of competence for understanding and solving basic mechanical problems, in courses/career paths in which these principles are central. Individuals scoring highly on this test are considered to be an excellent fit for vocations which require the use of mechanical understanding.
That is not to say that the test necessarily requires a great deal of pre-existing mechanical knowledge. The test itself is intended to identify an instinctive propensity for mechanical thinking rather than assess the level of education possessed by the candidate, so the questions are not so complex that they would require a college education to solve.
The BMCT-II was launched in September 2014, with new norms added in June 2018 in order to improve upon the previous BMCT-I, which was longer and was required to be administered in an assessment center. The BMCT-II is also available in English, French, French Canadian, Dutch, Castilian Spanish, and US Spanish.
Prepterminal's expert psychometricians have formulated a comprehensive learning resource, providing all the components for success, from text/video modules to mock assessments so you can approach the real thing with full confidence in your ability. Sign up to our Bennett Mechanical Comprehension Test preparation pack today in order to improve your performance and remain competitive in the eyes of employers.
Bennett Mechanical Comprehension Test Format
The BMCT-II is comprised of a total of 55 questions, which may be delivered either supervised or unsupervised, with a time limit of 25 minutes. As Pearson developed a bank of 300 questions for the assessment it is ensured that no two applicants require the exact same set of questions, which ensures that no two applicants will receive an identical set of questions, which protects the integrity of the test from potential collusion in an unsupervised setting.
BMCT-II Results & Scoring
The BMCT-II, being comprised of 55 questions, yields a raw score given out of 55. Based on the answers given, Pearson provides a number of norm reference groups from which the percentile performance of the candidate is derived. This allows for accurate assessment of competence in relation to a given field. The current norm groups available for the BMCT-II are:
The BMCT has questions on the following topics:
Engineers
Energy and Utilities
General Labor
Industrial/Technical Sales
Installation/Maintenance/Repair
Machine Operators/Machinists
Manufacturing and Production
Mechanics
Skilled Trades
Vocational/Technical Students
Norms were most recently updated in 2018 in order to more accurately reflect the demographics and requirements of each industry. Pearson updates their norms roughly every 5 years in order to adhere to industry-wide and internal standards.
As questions vary in difficulty, the scoring of each question is weighted, which accounts for the need for a calculated score rather than using raw score data. In total, there are five scoring metrics provided in the report:
Number correct (Raw score): Only an indication of the number of correct responses on the test. As questions vary in difficulty it is very common for two candidates to achieve identical raw scores but different calculated scores.
T-scores (Theta scores): The standardized scores used to compare a candidate's results. T-scores have a mean of 50 and a standard deviation of 10.
STANINE (Standard Nine) scores : A standardized score, with a maximum score of 10, with a mean of 5 and a standard deviation of 2
STEN (Standard Ten) scores: A standardized score, with a maximum score of 10, with a mean of 5.5 and a standard deviation of 2.
Candidate Percentile: A percentile rank based on the performance of the candidate in relation to others. A helpful tool for identifying the performance of a candidate compared to others in the same norm reference group.
The interpretation of results given in the report provides a qualitative description of the candidate's capability based on the percentile score on the following criteria:
Understanding of physical principles and laws and their application
Installation of devices or equipment
Diagnosis of problems involving machinery or equipment
Repairs and rework
Proficiency in mechanical roles or functions
Proficiency with complex machinery/equipment
Learning of new or unfamiliar mechanical concepts
It is quite common for an employer to follow up on an unproctored test with a proctored test in an assessment center to ensure that no cheating occurred. Alternatively, information via other sources measuring the same abilities such as structured interviews or other assessment center exercises might be used to check the validity of results.
Bennett Mechanical Test Questions
Much like other mechanical comprehension tests, the Bennett Mechanical Test is designed to assess a candidate's knowledge across a range of areas pertaining to mechanical comprehension, such as friction, gravity, pressure, levers, pulleys, etc.
Example: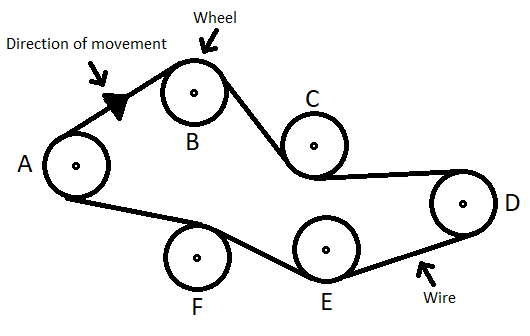 Question:Which wheels are turning clockwise?
A, D, F
C & F
A, B, D, E
None
Answer: C
As it useful to note that all questions are delivered in a multiple-choice format, with only one correct answer.
How to Pass Bennett Mechanical Test
As mentioned before, there is a relatively tight time limit on questions in the Mechanical Aptitude Test. This means that is it vital to come with the ability to think quickly and discern the correct answer accurately. If a candidate were to spend too long on a single question it could greatly compromise overall performance. Here are a few tips to help prepare for the test:
Revise basic mechanical concepts in order to ensure that you have a functional understanding of all relevant concepts.
Do not get mired in details which are extremely complex: the test in a metric of raw mechanical capability and does not require an incredible depth of learned information.
Do not dwell on an individual question for too long. If you cannot find the answer in adequate time, then guess – no points are deducted for incorrect answers.
While passing tips may prove helpful to bear in mind while one prepares, the best way to prepare yourself for the Bennett Mechanical Aptitude Test is to follow a structured study course and take mock assessments. Prepterminal's expert psychometricians have composed a Bennett Mechanical Comprehension Test preparation pack in order to refine your inherent mechanical comprehension and familiarise yourself with the format in order to improve your capability in the real test. Featuring text/video modules and a number of mock assessment pieces, our preparation pack is a one-stop shop for test success.
When you take the real test, there won't be second chances. Don't go in blind and let your dream job pass you by – get started on the path to success today.