How the Numerical Reasoning test Works
The SHL Numerical Reasoning test is the most common numerical exam used by recruiters, companies, and organizations across the world. If you have an upcoming numerical test for a job application, chances are that it's the SHL numerical test!
This is a challenging aptitude test that measures a candidate's numerical critical reasoning skills. What's tough about this exam isn't merely the mathematical content – it's that you need to complete 21 questions in only 21 minutes.
You'll need to interpret numerical data presented in many formats such as tables, graphs, and charts for the purpose of performing calculations based on them. There are many mathematical principles involved that should be thoroughly understood to gain a strong score.
The skills tested in the SHL Numerical Reasoning Test are:
Calculations involving time

Fractions

Interpretation of data from a chart

Percentages

Ratios
How to Prep for the SHL Numerical Test
Remember that SHL tests are timed and you're facing 21 questions in 21 minutes. That's one question per minute! Questions also scale meaning that they become more difficult. This is a challenge when you're being measured against other job applicants.
The SHL Numerical Reasoning Test can be delivered in either one or two stages. One-round tests such as the Management and Graduate Item Bank (MGIB) test are taken supervised in an assessment/testing center either online or on paper.
For two stage testing, you'll take a Verify test which is when a candidate completes an unsupervised SHL test online, and then a supervised exam in a testing center to ensure that there was no collusion or cheating on the test.
Now – let's see the top tips for passing a SHL Numerical Test
Take (Lots) of Practice Tests:
Taking time to prepare is hugely important for this test. You'll need to familiarize yourself with many mathematical concepts that might come up in the exam, while readying yourself for the high-speed test-taking that's characteristic of any SHL test.

As it happens, Prepterminal's comprehensive preparation pack is a one-stop shop for the SHL Numerical Reasoning Test. It features a dynamic combination of video and text modules with mock assessments to refine and benchmark your skills. Don't let any dream job pass you by: sign up ASAP and get started on the road to success.

Bring your Calculator:

Make sure that you familiarize yourself with your calculator's advanced functions. It's even more useful if you bring a scientific calculator that has programmable macros. This can save you a big amount of time which is a big deal when you're facing a question per minute!

Bring Paper and a Pencil:
While this might be a simple tip, you'd be surprised how much a writing pad can help you to visualize and solve problems. Sometimes a calculator doesn't cut it when you need to trace ideas and work out questions.
Use your time wisely:
As you only get one minute per question in this assessment, you must ensure that you work quickly and accurately. Don't linger too long on a question you cannot answer quickly at the expense of other more approachable questions. Remember that guessing is better than not answering at all! Swiftly use the process of elimination if you're struggling.
Study Spatial Reasoning:
The SHL numerical exam tests a candidate's knowledge and ability regarding spatial relations among objects and space. This is a common test for candidates for public safety roles and engineers, chemists, etc. Take time to study basic testing subjects and practice answering these questions in a timed environment.
Common Questions in the SHL Numerical Reasoning Test
Example 1:
The curator of an art studio sold some colored photographs for a total of $36,000. The original price was $22,000. She made a profit of $1,750 per piece of photograph. How many photographs did she sell?
9 Photographs

7 Photographs

8 Photographs

4 Photographs

6 Photographs
Example 2: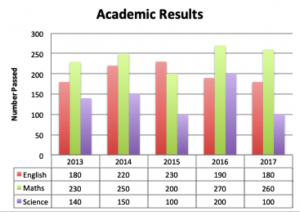 At a school, certain academic results are shown for a number of years. What was the ratio English passes and Maths Passes for the period of 2013-2017.
9:7

69:121

121: 69

100:121

100:69
Get on It and Start Preparing!
Don't waste any more time – take time to study and start taking practice tests. It's a fact that if you prepare, you will probably improve your score. Considering that you're being measured against the competition – every little bit helps!
Need a well-rounded solution? Check out Prepterminal's test preparation pack for the SHL test. It features a diverse combination of video and text modules with practice assessments to refine and benchmark your skills. Don't let any dream job pass you by – start practicing as soon as you can!